Fall is an inspirational canvas, with vibrant leaves and sunbeams painting our sky through crooked branches. The magical inspiration of the fall season makes it easy to come up with rich fall art activities for our preschoolers. Not only can we use the majestic fall scene to swirl our creativity like blustery leaves, but we can actually use items from nature to create our fall art projects for preschoolers. Check out these fall process art activities that are both fun and beautiful to create.
This post contains Amazon affiliate links, which means I earn a small commission from qualifying purchases at no extra cost to you by linking to Amazon.com. See the full disclosure here.
Fall Art Projects for Preschoolers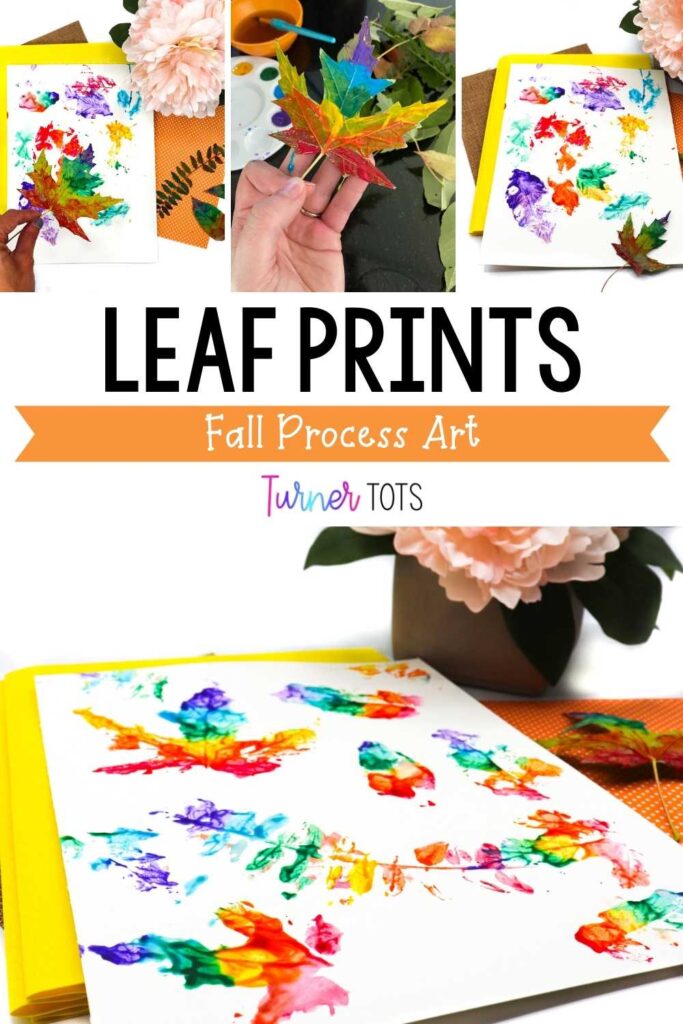 Nature is our inspiration for this first fall art activity.
As the leaves begin to change in nature, your little ones will be able to create unique pieces of fall process art. 
First, collect leaves that your students can paint. Gather your paints and paintbrushes, and let the experimenting begin!
Let your preschoolers paint the leaves, then press them onto paper.
Remind them that they can make any patterns and as many designs as they like!
Pinecone Rolling Painting
My kids know how much I love tiny things, so when they started collecting baby pinecones (just absolutely adorable), I couldn't just feign excitement and toss them back into the yard.
So the wheels in my head started turning, and this rolling pinecone art came to life!
It's a simple activity that contains the mess (can I get an amen!?).
Add dots of paint onto a circular piece of paper inside of a cake pan. Your little ones will gently roll the pinecone by tipping the pan. 
Once they are complete, a y-shaped stick will be attached to create a trunk for their painted tree!
Need a break from the paint? Try these coffee filter leaves made with markers and water.
First, cut out leaves from coffee filters by tracing the free leaf template on one and cutting out about 20 at a time. Easy peasy.
Then, have the kids color any design on their coffee filter leaf. The more color they add, the more vibrant they will be. 
Finally, spray the leaf with water, watching the colors slowly spread into each other, and let it sit to dry.
The changes of the seasons brings the changing of bulletin boards. I won't tell anybody if you still have your back-to-school bulletin board still up!
If you're looking for a fall refresh, these directed drawings will help you do just that.
The easy-to-follow directions will teach your students how to draw a pumpkin, a leaf, and an acorn. 
Let your students color them in after they have followed the directions and you'll have artwork to add to your updated seasonal bulletin boards!
No need for expensive art supplies here: just go on a nature walk and collect some leaves to use in this next fall art project for kids.
And trust me when I say, let them collect plenty of leaves, so they don't run in and out fifty times showering the house with leaf confetti like my kids.
Because once they get dotting those leaves with vibrant (and in my case, shimmering) paint, they just can't get enough.
That's the beauty and the freedom of process art. I showed them a new technique – dotting with cotton swabs – and the kids took off and ran with it (literally). But they were still allowed the freedom to create whatever design they chose.
MORE Fall Activities for Preschoolers