Looking for fun and simple Earth Day art projects that promote recycling and reusing materials? You're in luck! We've put together a list of five easy art projects that preschoolers will love. From recycled Earth paintings to CD suncatchers, there's something for everyone. So get creative and have fun!
This post contains Amazon affiliate links, which means I earn a small commission from qualifying purchases at no extra cost to you by linking to Amazon.com. See the full disclosure here.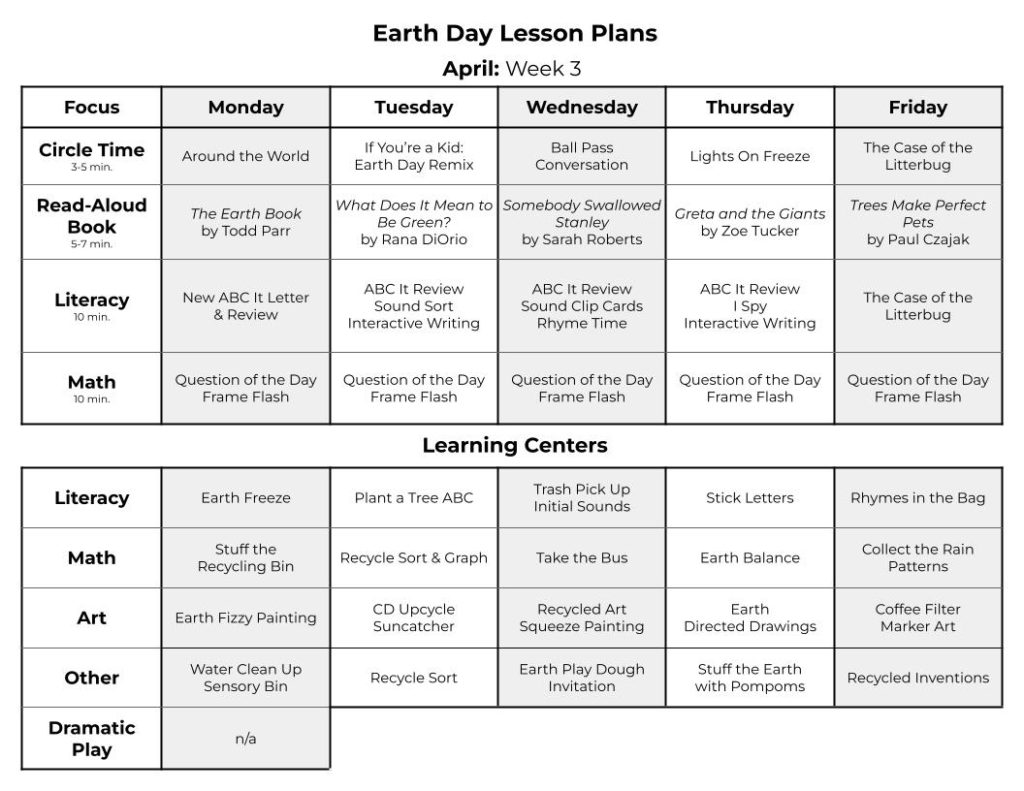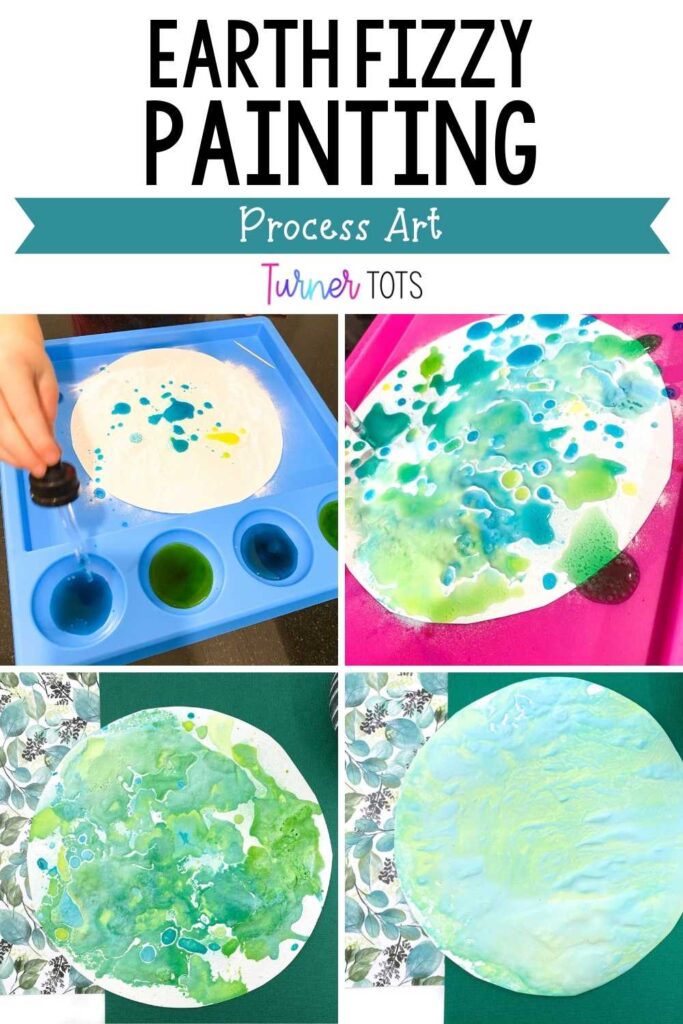 A science experiment art project? Uh, yes, please!
My kids could do this fizzy painting every. Single. Day. Keep that in mind the next time your kiddos get a little stir-crazy.
Here's how you work that magic: Cut out large circles from watercolor paper and cover them with a thin layer of baking soda. 
Tip: Set on a tray to contain the mess. We snatched up some of those art trays with wells from the Target Dollar Spot a couple of years ago and loved using those with this baking soda painting!
Then, pour vinegar into your paint trays/wells. Add a couple of drops of blue, green, teal, or lime liquid watercolors to each well, and your preschoolers are ready to experiment with art.
Use pipettes to drop the vinegar paints onto the paper, and fizz! Watch in amazement as your Earth painting bubbles.
This isn't just putting paint to paper. It's a sensory experience like no other, which is why your preschoolers will ask to do this again and again.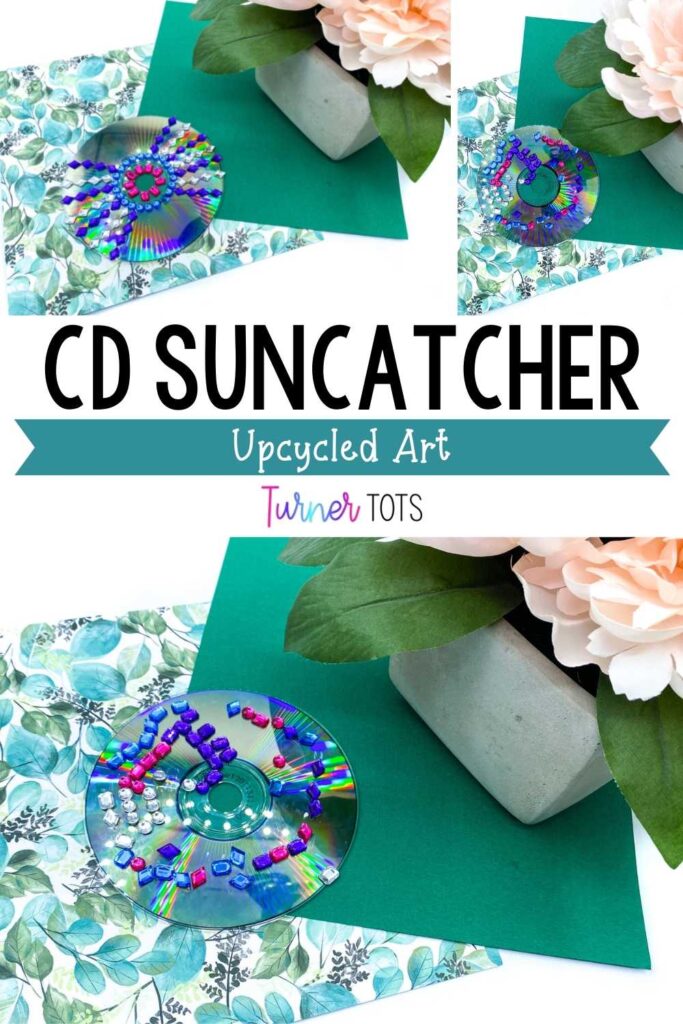 Do you remember your first CD? Oh, the thrill of not having to rewind cassette tapes as I blasted "Always Be My Baby" by Mariah Carey on repeat. Do do doop dum. 
And even though the lyrics state, "You'll always be a part of me," here we are in 2022, and CDs are ancient technology. They're not a part of our lives, and they're definitely not a part of our preschoolers' lives.
But they can be in this Earth Day art project with upcycled CDs. 😜
And while your preschoolers are making a suncatcher by decorating a CD with sticker gems, you can attempt to tell them how cool CDs were when they came out in the last century. You may get a few confused looks, but don't worry, believe in your coolness. 
And believe in this super low-prep upcycled craft for Earth Day.
Recycled Cardboard Squeeze Painting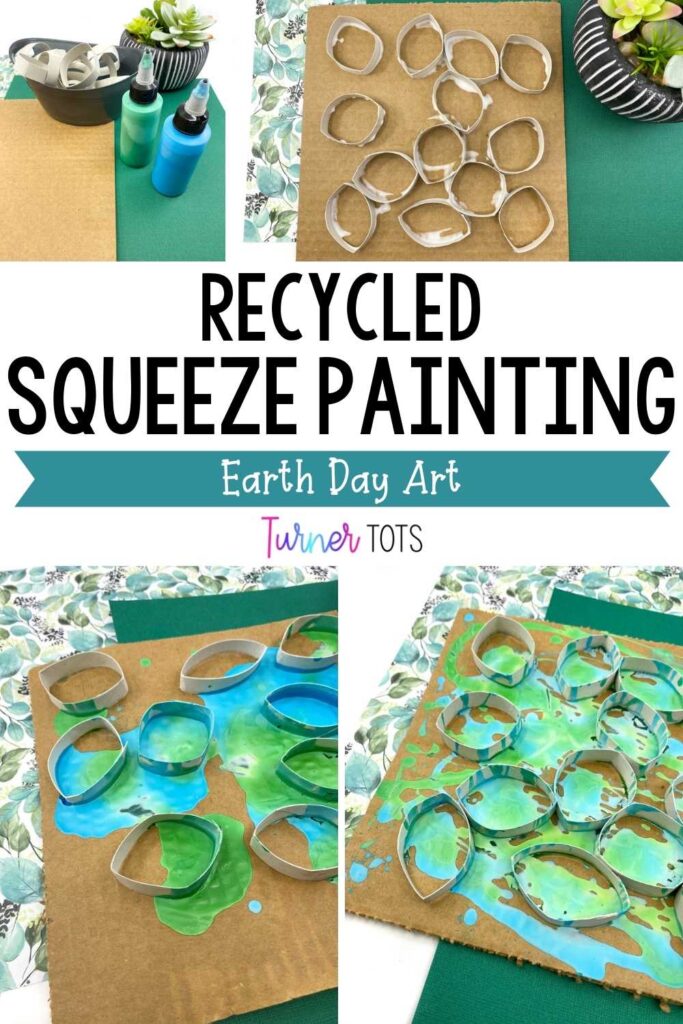 Cardboard tubes are not just toilet paper spindles. They are binoculars, castles, bridges, tunnels, stamps, and tree trunks to our toddlers.
And today, we are using them to create some Earth Day recycled art!
Because it's Earth Day, we wanted to show our little ones that recyclables can have a second life. So we pulled cardboard and those handy-dandy toilet paper spindles out of the recycling bin to make this abstract squeeze painting. 
Note: The circles cut from the cardboard tubes were supposed to spring back into circles after we cut them, creating a beautiful round Earth painting. However, as you can see, our Earths fall a little flat. 
So step one: Glue on those wonky circles and let dry.
Step two: Add blue and green paint to squeeze bottles with a smidge of water, and let your kiddos get their art on!
Earth Day Directed Drawings
Step-by-Step Drawings for Kids
Let's eliminate phrases like, "You are so talented."
And replace them with, "I can tell how much you practiced that!"
Let's focus on encouraging children to put in the effort of practice rather than the praise of telling them they're talented. Encouragement will motivate them to continue to work hard at something, especially if it's not easy at first.
Like drawing.
Drawing can be difficult at first, and unfortunately, many children give up being an artist because they feel they aren't talented, or so they've heard.
But practice makes us better. Better tennis players, better violists, and better artists.
So let's give our preschoolers plenty of practice with drawing. This set of directed drawings can do just that. With simple step-by-step instructions using basic lines and shapes, your toddlers can learn how to draw, feel the confidence it brings to them as artists, and hopefully continue to practice their skills.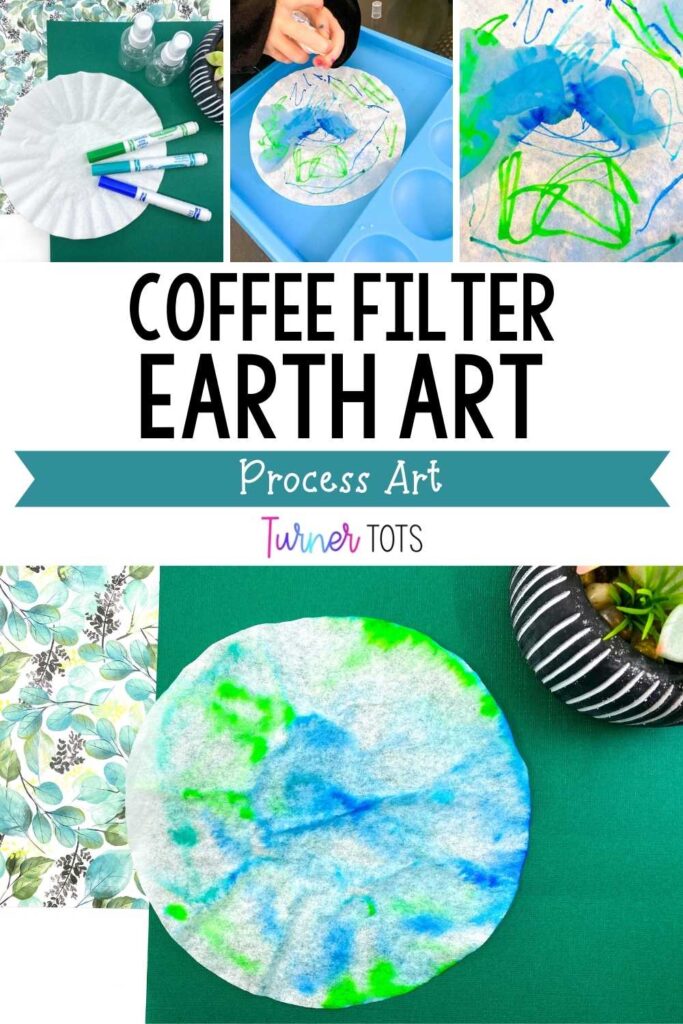 Now that we have reusable coffee filters, we need to find ways to breathe life back into our paper coffee filters. After all, they've provided us with all that necessary caffeine for years; it's the least we can do for them.
Hence, this upcycled coffee filter art project. 
We kept it super simple with this Earth Day art project. The kiddos used blue and green markers to color the coffee filter however they pleased. Then, they sprayed the coffee filters with water and watched the colors bleed into each other, creating Earth art.
Tip: The more you color, the more vibrant your Earth art will be.
Pretty neat and, like I said, pretty simple. Some days we just need to keep it simple.
MORE Earth Day Activities
In honor of Earth Day, we've put together a few fun art projects that use recycled materials. From cardboard paintings to suncatchers made from CDs, these crafts are perfect for showing your love of the planet. And best of all, they're easy enough for kids (and adults) of all ages to make! So why not get started on your own Earth Day art projects today?