For some of us, art lost its magic when we realized we weren't as talented as others. And then, poof! We just stopped creating art, thinking that it's only for those rare, gifted individuals. But here's the thing: art is for everyone, and art should be about having fun. And I bet if we never stopped creating art in the first place, we'd feel so much more confident about it now. So let's throw that notion out the window and simply enjoy the process of creating something unique, something beautiful. That's precisely what we did this week with our nursery rhymes art projects. Check it out!
This post contains Amazon affiliate links, which means I earn a small commission from qualifying purchases at no extra cost to you by linking to Amazon.com. See the full disclosure here.
Nursery Rhymes Lesson Plans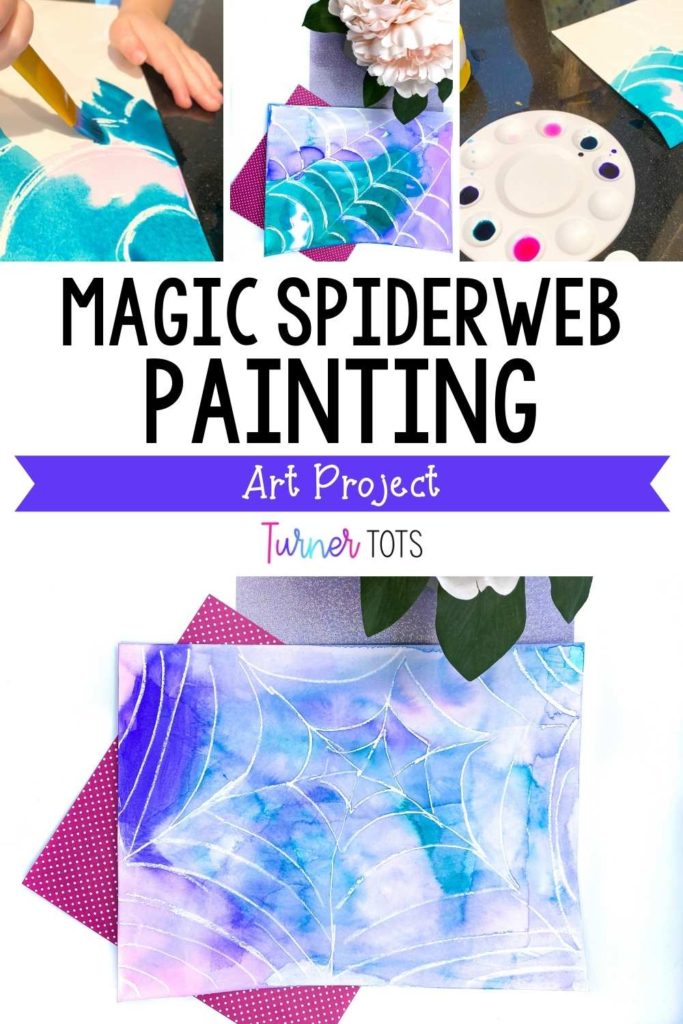 I am still waiting on my letter from Hogwarts. The owl must've gotten lost on the way to my Muggle house, for sure. 
And even though I know that spells and enchantments aren't real and my letter to Hogwarts is never arriving, there's still magic in the everyday moments of life. 
Like when you hand your child a "magic painting" and watch as their face lights up as a secret picture is revealed. That's the magic.
And you can set up this magical art project for your kiddos, too. Just use a white crayon or oil pastel to draw a spiderweb (which we did to go with the nursery rhymes with spiders like Little Miss Muffet and The Itsy Bitsy Spider) or any object. Then, give your kids some watercolors and a wand, I mean, a paintbrush, to make the picture magically appear. 
You've got excitement and magic in this low-prep art activity for your nursery rhyme theme.
Nursery Rhymes Art Projects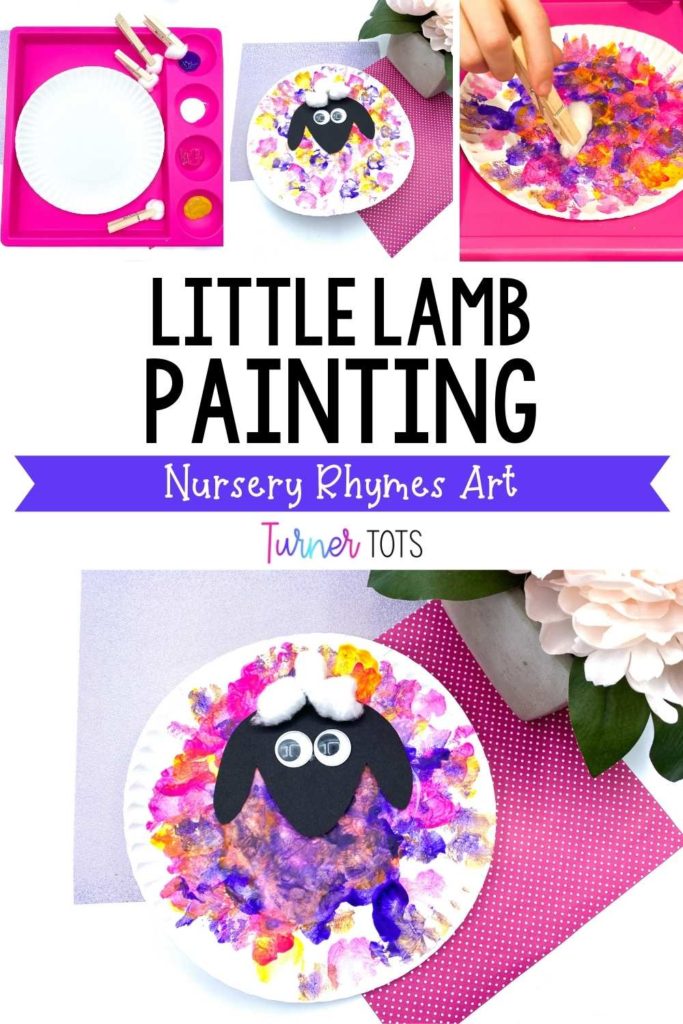 These lambs' fleece is definitely NOT as white as snow! They are rocking out at the color run with bold purple, pink, and yellow splashes all over their wool. 
And your preschoolers will also be rocking out as they create this lamb process art to go with Mary Had a Little Lamb or Little Bo Peep. 
Grab some cotton balls with clothespins to pretend to paint with wool. Then, dip the cotton ball into the vibrant paints and dab all over a paper plate. Some white paint gives a cool effect as the colors mix together.
Then, cut out some lamb heads from black paper for the kiddos to glue onto their multicolored paper plates. Finally, add some cotton ball fringe for the perfect forelock on this adorable sheep art activity.
Twinkle, Twinkle Little Stars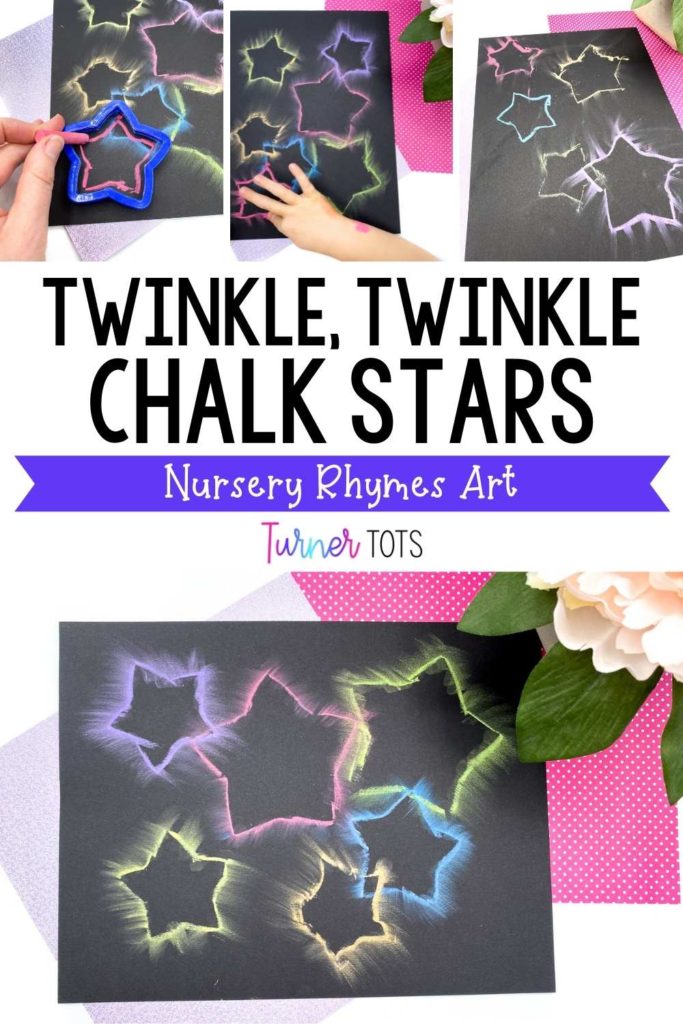 Every year at Lake McConaughy, we gaze into the night sky to look for UFOs (as Grandpa calls them). In the midnight sky dotted with a million stars, we always see strange moving objects and secretly hope for a shooting star.
And as your students create these twinkling stars in the art center, they can make a secret wish just like we do every summer at the lake.
Using star cookie cutters, trace the inside of the stars using chalk in every color of the rainbow. Then, send the stars shooting off into the night sky by smearing the chalk.
Layer the stars and use different colors to create a piece of art that's a dazzling reminder to wish upon the stars.
"Mom, everything looks cuter with eyes and a mouth," said my 7-year-old artist as she added those details onto her carrot, sun, and this week on our nursery rhymes directed drawings.
I think our pictures look cuter with eyes and a mouth, too.
But even more importantly, I am inwardly thrilled for my girls to develop their drawing skills with these step-by-step drawings. With every one they complete, their confidence as artists grows. And we all know the importance of confidence for our self-esteem. 
Build your students' confidence with drawing with this yearlong set of directed drawings to go with every theme. That's over 150 drawings!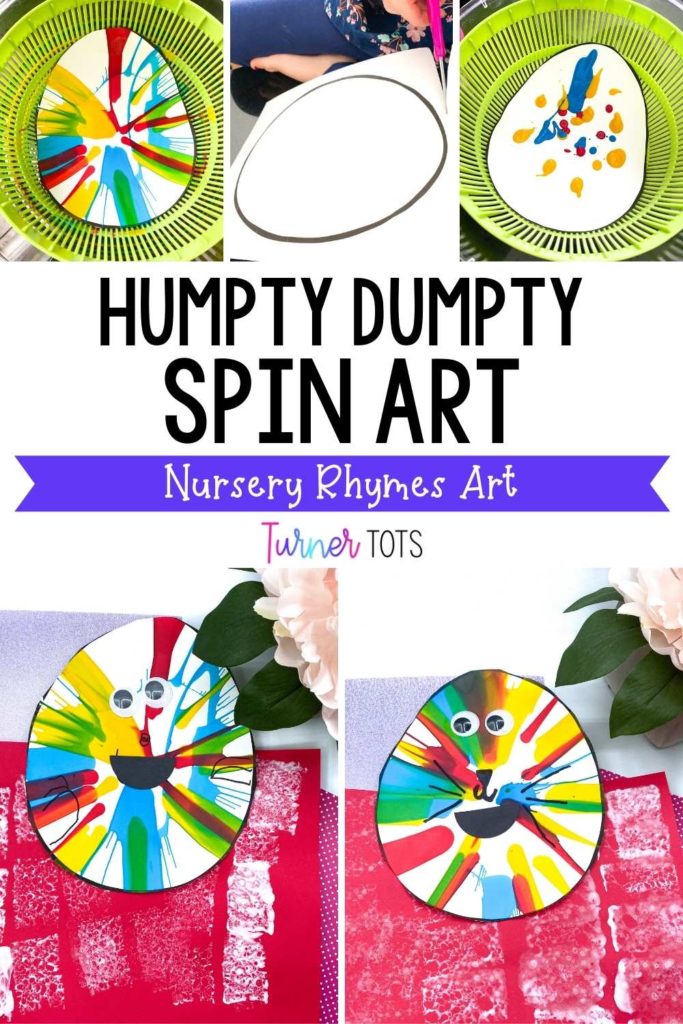 Your preschoolers will be cracking up with this next nursery rhymes art activity. Actually, I was cracking up, too, as this was my first time using the salad spinner to create art. 
And let me tell you, the salad spinner did not disappoint. 
We first cut out eggs from white card stock and placed them inside the salad spinner. Then, the kids dropped some dots of red, blue, and yellow paint onto their egg and took poor Humpty on the ride of his life. As you can see, the result is pure brilliance.
While we waited for our Humpty Dumpty eggs to dry, we painted brick walls using a sponge dipped in white paint. This turned out great on the red card stock. 
The final details are the large googly eyes and the mouths, and of course, the whiskers that my child added onto Humpty. Hmm. Interesting choice for an egg, for sure.
MORE Nursery Rhymes Activities
There was a tired teacher who worked in a shoe. She had so many children she didn't know what to do.
Don't be like her by searching for days and spending hours creating highly engaging nursery rhymes centers that your students will jump over the moon for. 
All of these nursery rhymes centers for preschool are included in this discounted bundle! Plus, you get your nursery rhymes lesson plans done for you (that include all of these nursery rhymes art projects) so you will know exactly what to do with all of your children. You might even get a nap with all of the time you will save.
If there is anything you need to get this nursery rhymes theme ready for your preschoolers, just let me know, and I would be happy to help with whatever you need!