Little Bo Peep lost her sheep, but you don't have to lose your sheep when planning your nursery rhymes activities. These hands-on literacy centers not only incorporate all of those foundational skills, from letters to syllables to rhymes, but they make learning fun, which is precisely what you need to create a stimulating, happy classroom. Check out these nursery rhymes literacy activities for preschoolers!
This post contains Amazon affiliate links, which means I earn a small commission from qualifying purchases at no extra cost to you by linking to Amazon.com. See the full disclosure here.
Nursery Rhymes Lesson Plans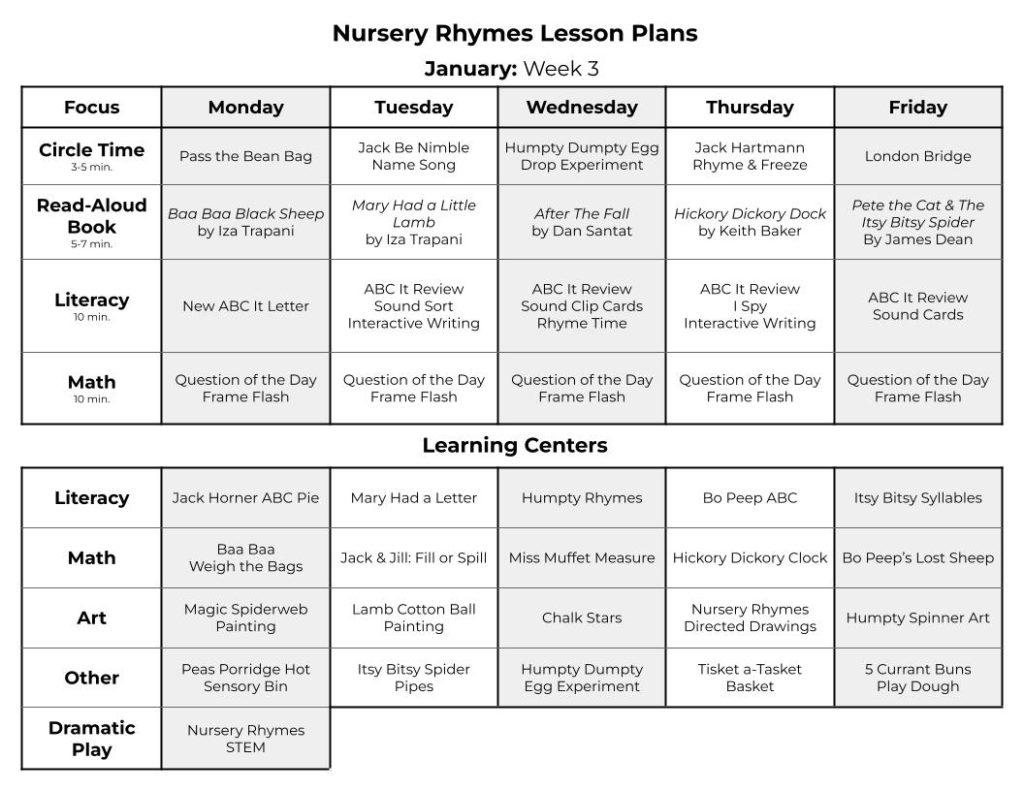 Imagine a crowd belting "Sweet Caroline" at a baseball game; however, they start singing it with your name. That excitement and joy (and maybe a little embarrassment) are how I imagine it feels when you're three years old, and the class starts singing a song with your name in it. You feel like you're on the Jumbotron screen!
This feeling is precisely why we've added in some personalized nursery rhymes this week. Not only did we jump over the candlestick with a personalized "Jack Be Nimble" during circle time, but now we're adding in some literacy with a personalized Little Jack Horner rhyme.
While singing the personalized Litle Jack Horner rhyme, have a student reach into a pie pan with felt crust and pull out a plum. Each plum has its own initial sound pictures that, of course, have a nursery rhyme theme. The student who pulled out the plum names the picture and everyone can daub or trace the letter on their own recording sheet. 
Tip: When making the pretend pie, place the plums in a smaller container under the felt crust so the plums don't slide too far out of reach.
"And everywhere that Mary went, the lamb was sure to go." I'm pretty sure this nursery rhyme refers to toddlers, specifically if you 1) try to nibble a chocolate bar in peace, 2) try to take a relaxing shower, or 3) just simply pee alone. 
And in this next activity, you will understand Mary completely as the lambs magnetically cling to her. 
Just use the magnetic wand (which is Mary, of course) to catch a lamb with an attached paper clip and trace the matching letter on the recording sheet the same color as the letter on the lamb. 
The kids will be drawn to this alphabet activity like magnets – perfect to keep them engaged with your nursery rhymes activities. 
The pompoms are not just for decoration either; they help separate the lambs in the sensory bin, so you don't catch all of them at once.
Nursery Rhymes Activities
Humpty Dumpty loves rhyming words; after all, his mother chose a name for him that rhymes. So when he hears rhyming words, joy and calmness spread through him. But when words don't rhyme, he gets a little shaky, loses his balance, and falls off the wall.
And after all of the excitement of our Humpty Dumpty egg experiment, we decided to use an Easter egg to amp up the engagement with this literacy activity. We placed a pocket chart on a shelf with the "Rhymes" and "Does NOT Rhyme" headers and set the Easter egg above it. 
Then, we said the pictured words, which the kids secretly hoped didn't rhyme because if they didn't rhyme, they could roll the egg off of the "wall" and watch Humpty fall. Bonus points if you have a cheap egg that actually splits open when dropped.
Letter Identification & Formation
I remember getting those Highlight magazines and flipping straight to the hidden pictures page. Gotta love the hunt! And this time, we hid our lettered lambs under green rice so the kiddos could pretend to find the lambs just like Bo Peep!
The green rice on top of the lambs adds engagement to this math activity and makes it visually less busy. That's perfect for our little ones to focus on one letter at a time. 
Once they find a letter, they trace it on the recording sheet using the blue dots as starting guides for letter formation.
Hidden pictures mixed with letter identification – perfect nursery rhymes literacy activity!
Plus, there are individual letter cards to pair with a salt tray in the writing center included with this activity.
The Itsy Bitsy Spider is like watching a toddler climb up a slide and never quite make it to the top. They must simply love the thrill of the slip and the slide.
And that slip and slide motion has been added to this next nursery rhymes activity with spiders slipping and sliding down the water spout.
Place three plastic spiders on the Itsy Bitsy Syllables mat at the top of the water spout. Then, flip over a card and say the word in chunks, sliding one spider down the spout for each syllable. This kinesthetic motion helps toddlers divide the word into syllables while not forgetting how many syllables they actually counted. 
Finally, clip a clothespin onto the card to show how many syllables are in each word for a low-prep nursery rhymes center.
MORE Nursery Rhymes Activities
There was a tired teacher who worked in a shoe. She had so many children she didn't know what to do.
Don't be like her by searching for days and spending hours creating highly engaging nursery rhymes centers that your students will jump over the moon for. 
All of these nursery rhymes activities for preschool are included in this discounted bundle! Plus, you get your nursery rhymes lesson plans done for you so you will know exactly what to do with all of your children. You might even get a nap with all of the time you will save.
If there is anything you need to get this nursery rhymes theme ready for your preschoolers, just let me know, and I would be happy to help with whatever you need!