Who was your secret Valentine growing up? Mine was my mom. Every year she would secretly deliver roses to all 5 of her girls at school. Maybe it was to make us feel loved or maybe it was because she wanted to keep those raging hormones in check on a very emotional day. Either way, smart move, Mom. I still feel the love you shared today. But roses aren't the only way to show someone you care. Love can be shown in a special art project, too. Read to discover some Valentine's Day art for toddlers that are all created with love.
This post contains Amazon affiliate links, which means I earn a small commission from qualifying purchases at no extra cost to you by linking to Amazon.com. See the full disclosure here.
Valentine's Day Lesson Plans
Valentine's Day Art for Toddlers
To capture sunlight dancing off a blade of grass is to capture a piece of heaven. 
That's how I feel when I take photographs. There's something peaceful and beautiful about sunlight. Perhaps the sun gets its vibrant lure because it's the source of life.
And you can capture a piece of the sun with this Valentine's Day art for toddlers: heart suncatchers. 
Start by placing 2 pieces of red paper on top of each other and folding them in half. Cut out a large heart, and then cut out a smaller heart from the inside, creating 2 identical heart outlines. (Your tots can also do this part to work on fine motor skills if you draw the heart outlines for them.)
Next, cut a piece of contact paper to match the size of the heart and place it on one of the hearts. 
Allow your toddlers to stick tissue paper squares all over the contact paper, and finish off the art project by glueing the other heart outline over the messy, exposed edges of the tissue paper.
And voila! Now your little ones can capture of a piece of the sun with these heart suncatchers for Valentine's Day.
🤪 I saw this going better in my mind. 
We rolled up a couple of cardboard tubes to make heart stampers, which you can do by folding a cardboard tube flat, and then pinching one of the folds inward and taping the top. 
However, the next time we do this Valentine art project, we are just going to use heart cookie cutters. By the time 2 of my kiddos were done, the cardboard tubes were simply a soggy mess. Lesson learned. 
But I do love that the tree trunk is made by tracing and cutting out their hand and arm. That gives it such a personal touch and is a good reminder at how small their little fingers were.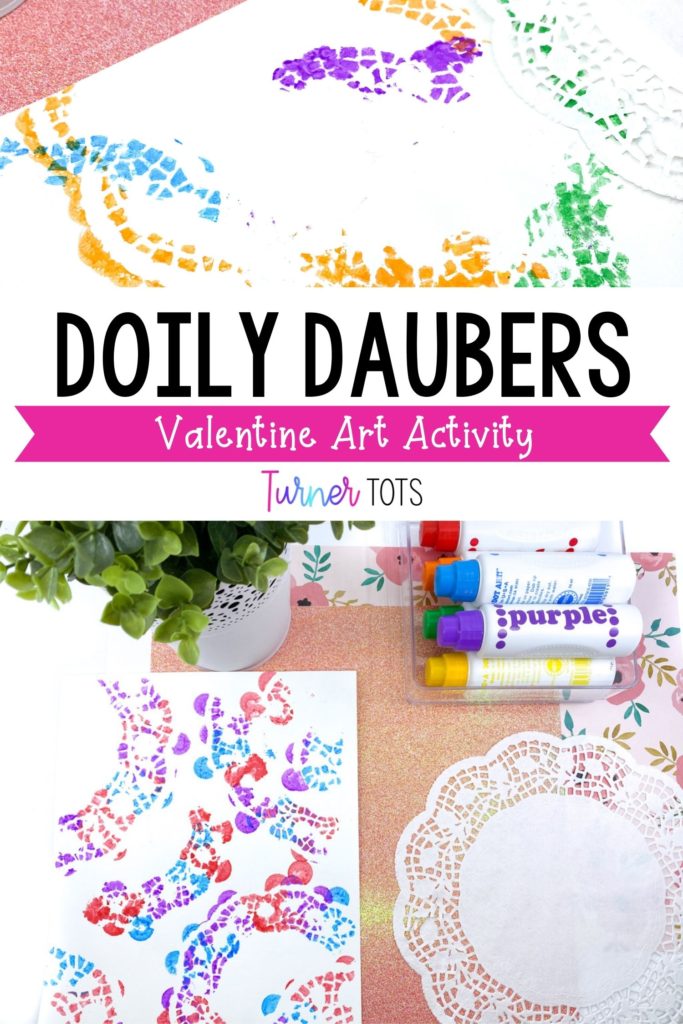 Are you a fan of dot markers? I seriously love them. 
And I seriously love when we get to create unique process art projects using various themed objects like doilies. 
This art invitation included me setting out paper, doilies, and dot markers. That's it. Then, the kiddos just started dotting on top of the holes in the the doily and moving it all around the top of their paper to make these beautiful creations.
Perfect Valentine's Day art for toddlers! Plus, it's low-prep for you, too.
These just keep getting better and better. 
Every time I bring out a new set of directed drawings, the kids just get to work without any instructions from me. Now, we've been doing these for a couple of months now, so it may take some time for your kiddos to get used to.
But man, I am proud. And I hope that learning how to draw using easy-to-follow steps gives my children the confidence they need later on to create their own drawings. 
For Valentine's Day, we drew cupcakes, teddy bears, and hearts. But this set of directed drawings comes with themed drawings for the entire year! It's such an easy way to work drawing into your art center or your writing center and build that confidence along the way.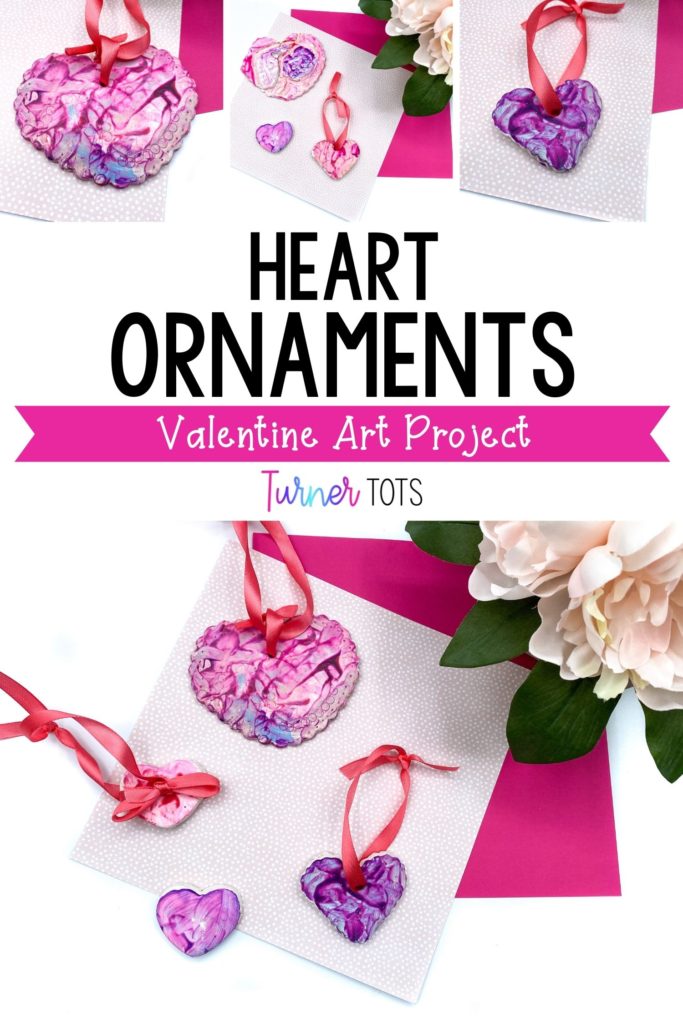 When it comes to art, I like to mix it up with mediums. Just as we switch our centers, manipulatives, and songs to keep our tots engaged, we should be doing the same with the materials in the art center. 
That means painting, drawing, collaging, or creating with clay. Or, in this case, salt dough. 
Mix 4 cups of all-purpose flour, 1 cup of table salt, and 1.5 cups of water using a wooden spoon. Then, knead for about 3-5 minutes. Place the dough between 2 sheets of parchment paper to roll out, and then start cutting out your shapes.
We used heart cookie cutters to not only cut out the outline of our ornaments, but also to gently imprint on top. The girls also experimented by gently pressing straws, toothpicks, and lace into the hearts to create patterns.
Poke a hole with a straw through the top for a place to tie the ribbon before baking in the oven at 250 degrees Fahrenheit for 2-3 hours.
Let your heart ornaments cool before painting, and you've got a great Valentine's Day art activity as a keepsake or a gift to send in a package in the Post Office Dramatic Play center, like we did here.
MORE Valentine's Day Activities
Are you ready for a blissful night instead of running around trying to come up with your Valentine's Day lesson plans? Don't search for days and spend hours creating highly engaging Valentine centers that your students will love. This bundle is ready for you to crush through February! Trust me, you'll cherish the day when these Valentine's activities are done, so you can enjoy time with your loved ones.
All of these Valentine's Day activities for preschool are included in this discounted bundle! Plus, you get your Valentine's lesson plans done for you with the complete list of Valentine's Day art for toddlers!
If there is anything you need to get this Valentine's Day theme ready for your preschoolers, just let me know, and I would be happy to help with whatever you need!