Children are naturally creative and curious beings, and they want to explore different shapes, textures, and materials in our world. As teachers, we should encourage our little ones to explore this creativity by providing them with materials and sparks of ideas. I think it's important to realize that this creativity cannot flow freely in a craft with a specific outcome. Not to say crafts aren't adorable and fun, but it's more about following directions than creativity. Plus, crafts are just straight up more work for the adult! No, thanks! This is why I provide materials and a few ideas, but all of our projects come out in a unique way, showcasing all of the diverse ideas we have. Check out these USA toddler art activities we did this week!
This post contains Amazon affiliate links, which means I earn a small commission from qualifying purchases at no extra cost to you by linking to Amazon.com. See the full disclosure here.
For our first art project, I provided my little ones with red, white, and blue stars and stripes. I just cut the strips on my paper cutter and used a hole punch to make the stars. Next, I showed the kids how to make a rainbow using a paper strip so the art pops out in a 3D effect. Then, I just let them create whatever they wanted using the materials I provided. My favorite was the bracelet (pictured on the bottom) and crown added to their USA paper art! So fun!
Shaving Cream fireworks painting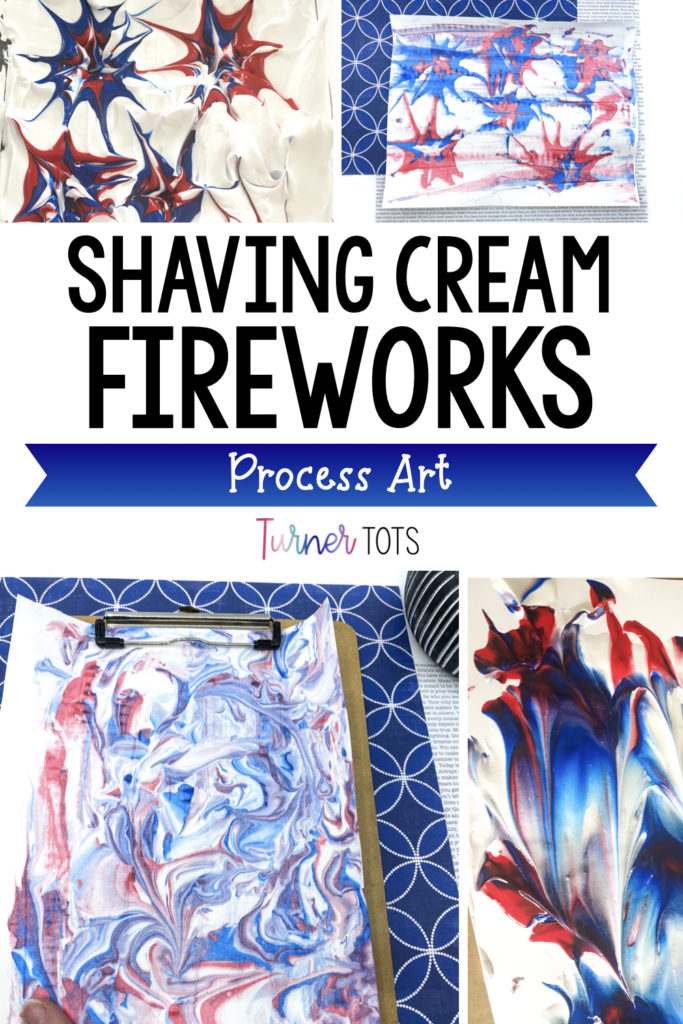 Next up, we experimented with shaving cream and paint. I filled a baking dish with shaving cream and added squirts of red paint on top of blue and blue paint on top of red. Then, I gave the little ones craft sticks and showed them how to make fireworks by dragging the paint out from the center. We laid a piece of paper on top of the shaving cream and gently pressed it down. When we lifted it, the paper looked like a patriotic waterfall sliding off of our page. Wonderful! We took a spatula and scraped the shaving cream off, rinsing the spatula between scrapes.
Then the real creation began! The kids swirled and scooped the shaving cream all around the pan. When they were ready, we pressed another paper down, creating the masterpiece you see in the lower-left corner. I absolutely love it and think it is even more beautiful than the curated firework painting we did together.
If you are a brave soul and want to provide your kiddos with an invigorating sensory experience, then just let them play with the shaving cream. This purple mess was definitely their favorite part of this painting! LOL!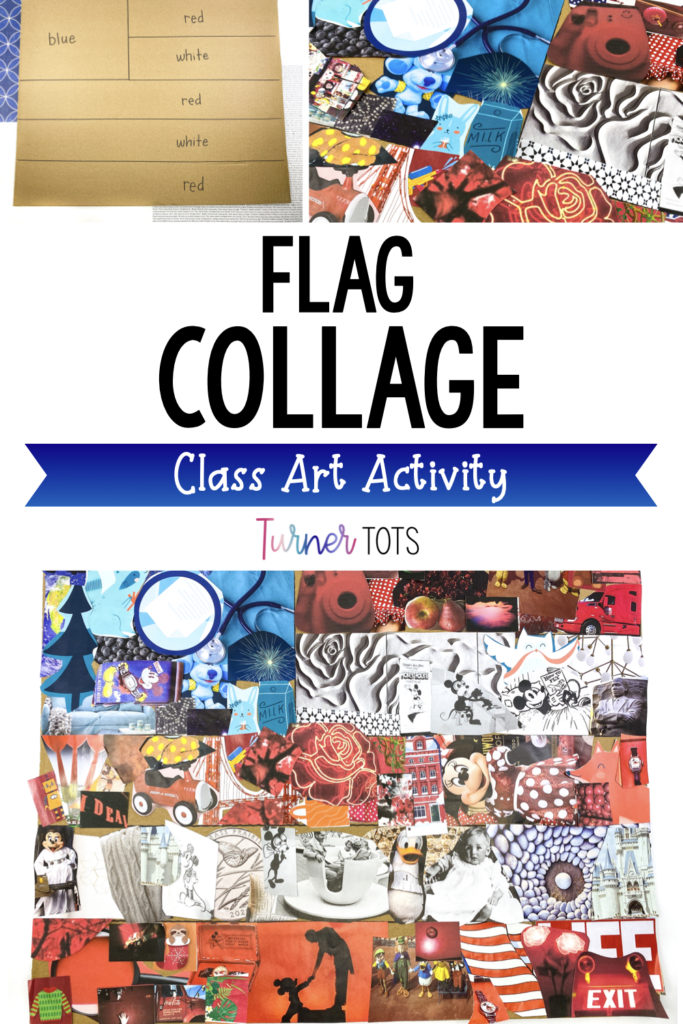 As a whole-group USA toddler art activity, we created an American flag collage. The children searched and cut out different red, white, and blue pictures from magazines, grocery store ads, and junk mail. My personal favorite addition is the Mickey Mouse magazine. So cute! I love how every picture we cut out was something that makes our country so wonderful. Next, I showed the kids how to glue each colored picture in the sections that were labeled with colors, trimming off any extra pieces and covering up blank spaces of cardboard. We noticed how we could layer pictures to give a beautiful effect. Tip: Each child only had enough stamina to cut out 3-5 pictures, so keep that in mind when choosing the size of your flag.
This is the new obsession in our household: Art for Kids Hub! Let me tell you, the creator, Rob, has uploaded so many wonderful drawing videos for kids. My 5-year-old daughter wants to do this as her special time with me every night. You should definitely check out the YouTube channel.
In order to make directed drawings a little more simplified for my 3-year-old, I made a step-by-step template using lines and simple shapes. This week, we drew Abraham Lincoln, which paired perfectly with our Lincoln Hat Stack and Measurement Activities. This will be a growing pack with drawings for every theme I create, so you should definitely grab it now while it is super cheap!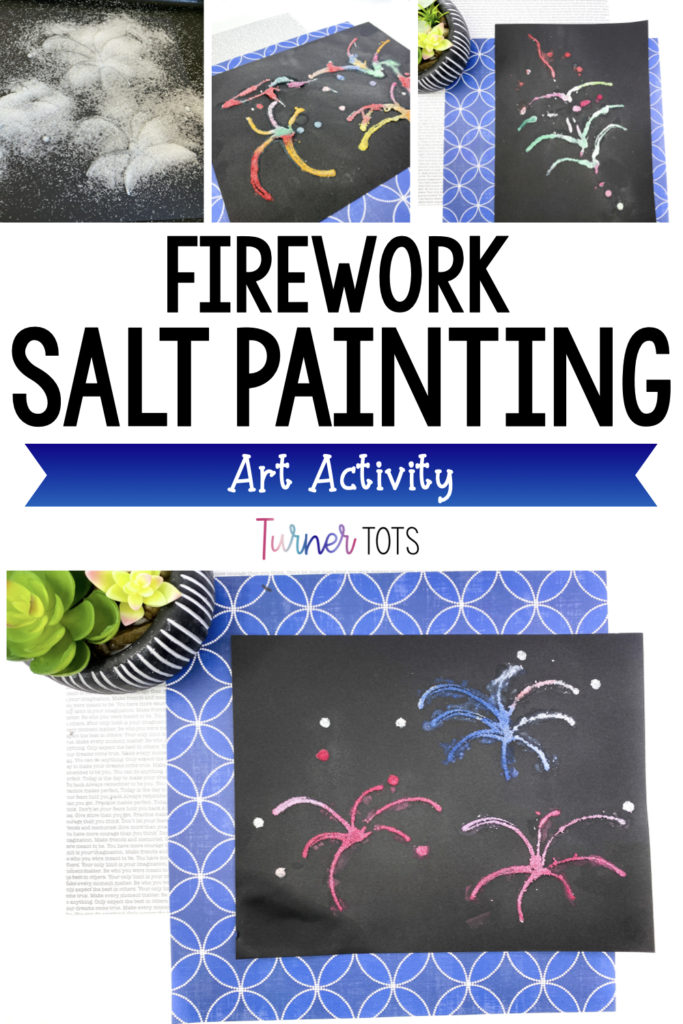 Last, but certainly not least, we made firework salt paintings. Such an easy art activity and so interesting! On black paper, we used glue to create fireworks that looked like asterisks. We placed our paper on top of a cookie sheet and then poured salt on top. I gently shook off the excess (saving it for future projects, of course) and let them completely dry.
After the glue was completely dry (about an hour), we used watercolor paints with lots of water to gently dab on the salty fireworks. It was so neat to see the color travel through the salt, creeping along like an inchworm. The kids loved seeing what happened when two colors met and were thrilled when their paintings were complete.
I hope you got some inspiration for some USA toddler art activities that allow creativity to flow. Let your kiddos make messes and just create! Let me know if you need anything! Go and make today ridiculously amazing!