Ah, fine motor skills — the very thing that keeps us up at night! As teachers, we are expected to magically create activities for our preschoolers that will develop hand-eye coordination while making it exciting. So how do you bridge the gap between preparing our students for kindergarten and doing something they find fun? The answer is five pet preschool activities related to fine motor skills — activities so fun your kids won't even realize they're learning while they play!
This post contains Amazon affiliate links, which means I earn a small commission from qualifying purchases at no extra cost to you by linking to Amazon.com. See the full disclosure here.
Pet Play Dough Invitation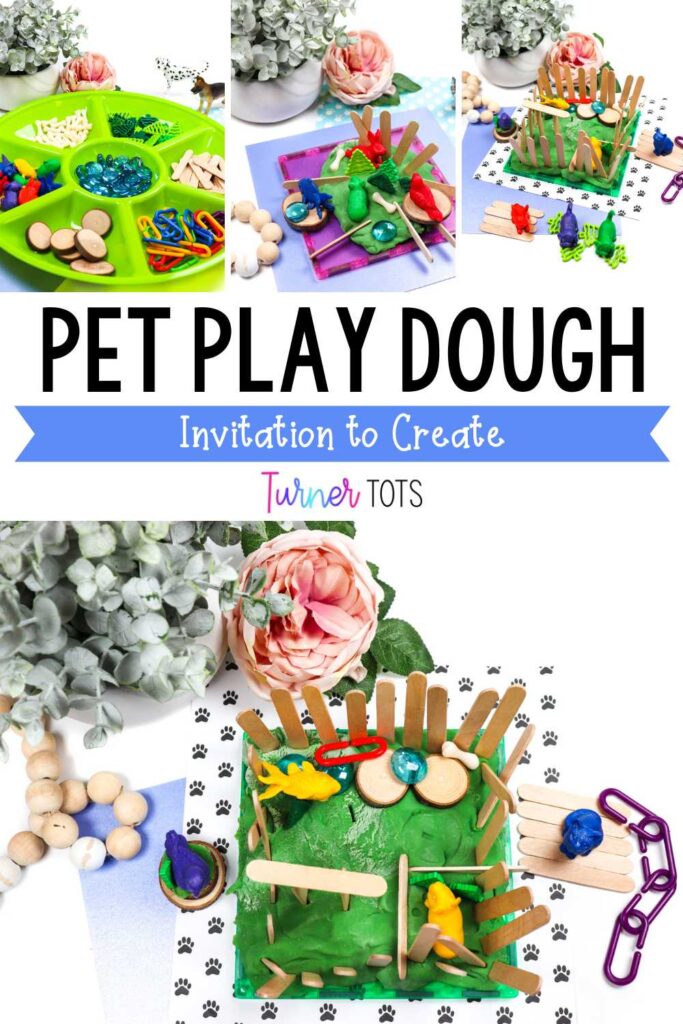 The thing about play dough is… it is what you make it! It can be a routine, boring activity that loses its appeal, or it can be an exciting invitation to be creative. 
One way I encourage creativity is by using play dough trays for play dough invitations. It allows preschoolers to be creative within a theme and provides variety to a familiar activity. 
This play dough invitation includes a tray with gems, linking chains, bones, popsicle sticks, and pet counters. 
You provide the materials, and what they create is up to them! While pet enclosures may be the intended "creation," your preschoolers may have other ideas. 
What direction will they take with the materials you provide? Time will only tell!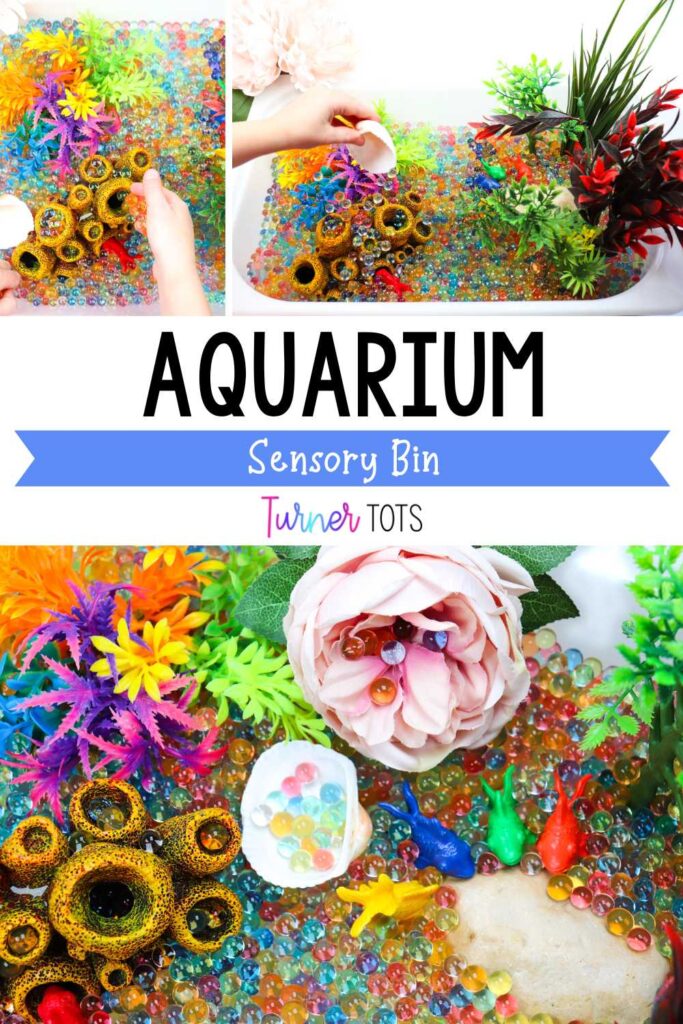 Field trips. You're either a fan of field trips, or you wish you could take a personal day every time they roll around. 
We could probably write a very entertaining book with stories written by preschool teachers who have taken their classes on field trips (lost students, scared of the dark in a cave, asleep under the seat on the bus). 
For this aquarium activity, you don't have to make a bus seating chart, count your kids a million and one times, find volunteers, or send permission slips home. 
Have I caught your attention yet?! This aquarium sensory bin brings the aquarium right to your fine motor center!
Rainbow water beads are one of the main attractions of this sensory bin. You will combine the rainbow water beads with aquarium plants, fish counters, rocks, and seashells to create the perfect sensory bin for your toddlers to explore.
Pet Fine Motor Activities
Growing up, I loved to make bracelets for anybody and everybody. I loved the variety of the beads and including letters to spell out names, words, or anything that came to mind. 
This pet activity is a fun spin on traditional bracelet-making delight. Your preschoolers will use beads and pipe cleaners to create collars for stuffed animals or pretend pets. 
Each customized collar will be handmade with tiny fingers as your preschoolers put their fine motor skills to work!
A simple, timeless activity that will be a hit during your preschool pets theme.
Pet Fine Motor Math Activity
The cat is out of the bag! 
Well, not really. But it's no secret that fine motor centers are a great way to channel the wiggles of your little learners. 
This Cat Whiskers fine motor activity will keep little fingers busy while combining numeracy skills with movement. 
Clothespins and printable cats are the stars of this activity. Easily differentiate the activity with color matching, numeral matching, or addition equation cats – whatever your students need to practice.
A purrfect activity for all levels of students in your classroom!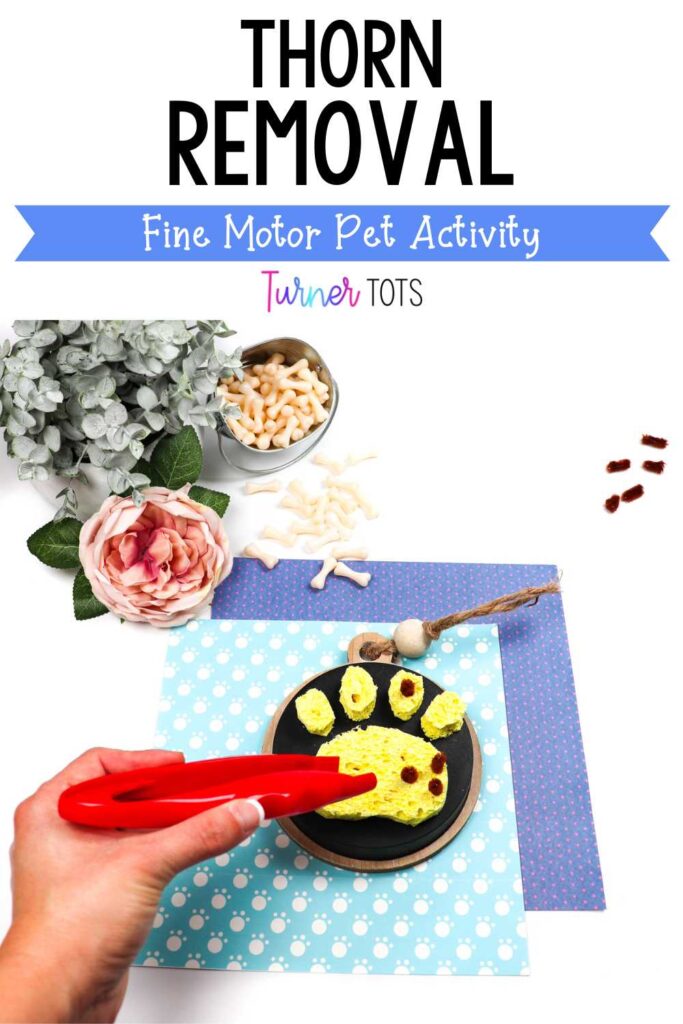 How many little helpers do you have in your classroom? 
I would guess that you have quite a few that are ready to "help" in any way that they can!
This fine motor activity is perfect for the little helpers in your room. 
Sponge paws will have pipe cleaner "thorns" stuck in them. Your preschoolers will use tweezers and their fine motor skills to remove the thorns one by one. 
By the end of the activity, each paw will be as good as new! No pesky thorns are still stuck inside of the paw print sponges.
MORE Pet Activities for Preschoolers
With some creativity and simple materials, you can give your preschoolers an abundance of fun pet fine motor activities. Removing pretend thorns with tweezers, exploring water beads, lacing beads into pet collars, and clipping clothespins as pet whiskers bring hands-on play to the next level. All these activities contribute to a child's physical and cognitive development while having a blast! Plan your pet activities today and watch the amazement unfold in the eyes of your little one.