"Pepper!" I yelled as I frantically chased our him down Dog Alley. Our old dog was a runner, and it was always a whirlwind of fur if he escaped unleashed. Luckily for you, chasing/running/screaming isn't involved in these easy pet art activities for your preschoolers. They will only unleash creativity. Join us in making these adorable (and stationary) pet art projects.
This post contains Amazon affiliate links, which means I earn a small commission from qualifying purchases at no extra cost to you by linking to Amazon.com. See the full disclosure here.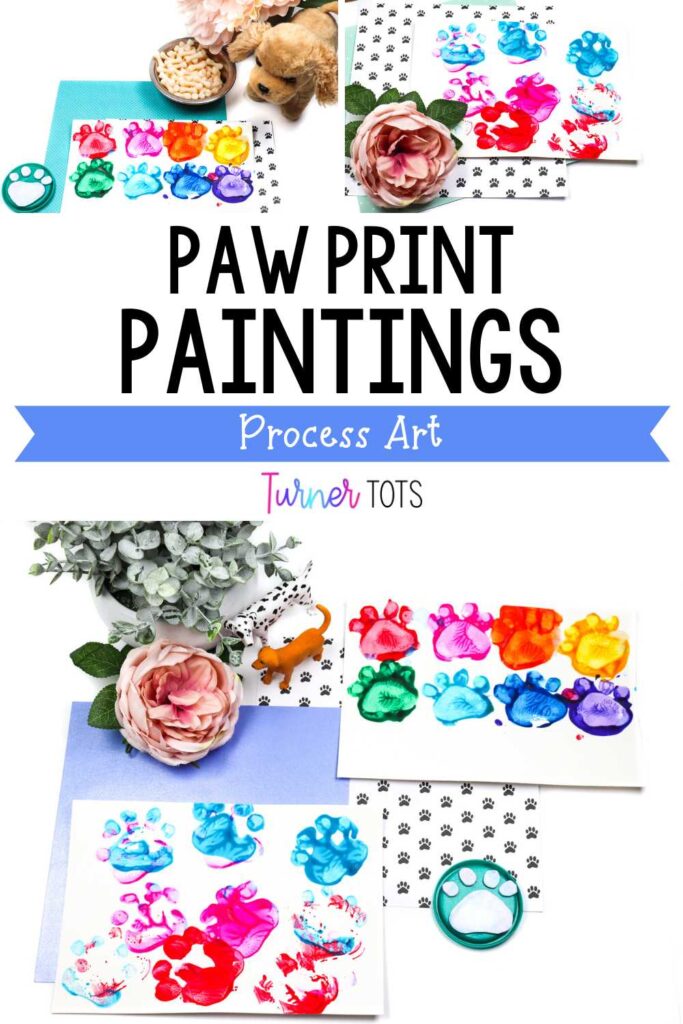 Muddy paw prints on the floor? Not cute.
Rainbow paw prints on paper? Absolutely adorable. 
Our paw print painting for kids is adorable. 
With just a few materials, your preschoolers will make tracks in no time!
Paint, paper, and a paw print stamp (a sponge cut up and hot glued onto a lid) are all that is needed for this art project. Your little ones' fine motor skills will be put to work as they gently dip their paws into the paint. 
Once their paws are covered in paint, they will carefully press the paw print onto the paper. 
The best thing about this art project? The paw prints are on paper and not on your floors!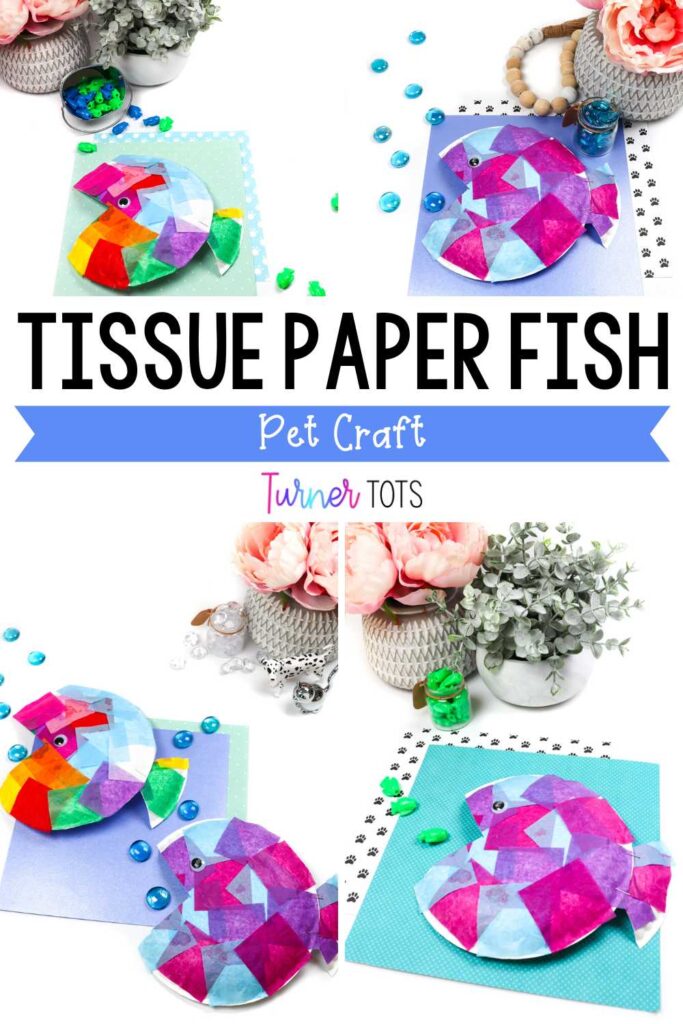 Just keep swimming, just keep swimming. 
Sometimes Dory is on repeat in my head while I am in the middle of art projects with toddlers. I can't be the only one, right?!
But I always remind myself that little minds and hands are at work, having fun and learning with each art project I swim through.
For this pet-themed craft, toddlers will create a tissue paper fish by gluing tissue paper squares onto paper plates. 
Once their scales are in place, cut out a triangle for a mouth, and staple it on as the tail. Finally, add an eye just above the mouth, and the fish will be ready for a swim!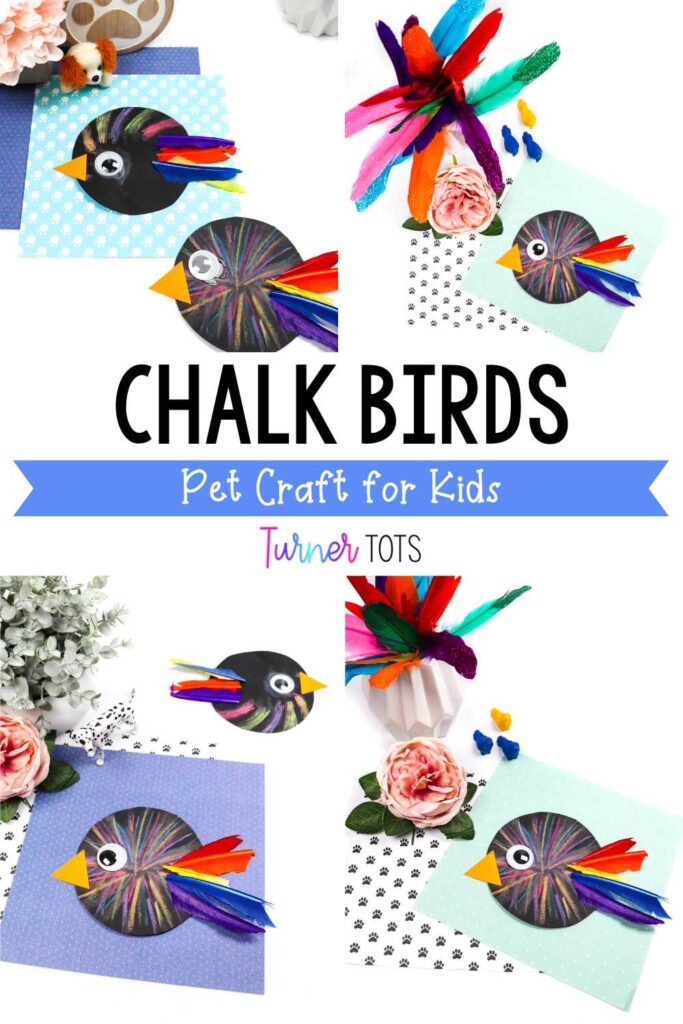 Certain types of crafts are just a rite of passage in childhood. Using chalk on black paper is no exception. 
It creates a vibrant look – even more vibrant than chalk on a sidewalk. Plus, these days, it almost feels like you are breaking the rules when you say you can use the chalk indoors, thanks to dry-erase boards!
For our pet-themed chalk craft, we are creating pet birds. 
Prepare circles on black construction paper, then hand over the chalk to your little ones. 
When they are finished designing their birds they can glue feathers on to complete the look. Add a googly eye, and the chalk bird is complete!
Encouraging little artists is one of my favorite things about working with preschoolers. 
They are still so eager to draw, no matter what the final product looks like. 
Directed drawings are one of my favorite ways to come alongside them and spark their artistic skills. 
Our directed drawings set has pet-themed drawings included that will fit perfectly in one of your art centers!
Learn how to draw a dog, cat, or fish bowl with step-by-step instructions that are easy to follow. 
Happy drawing!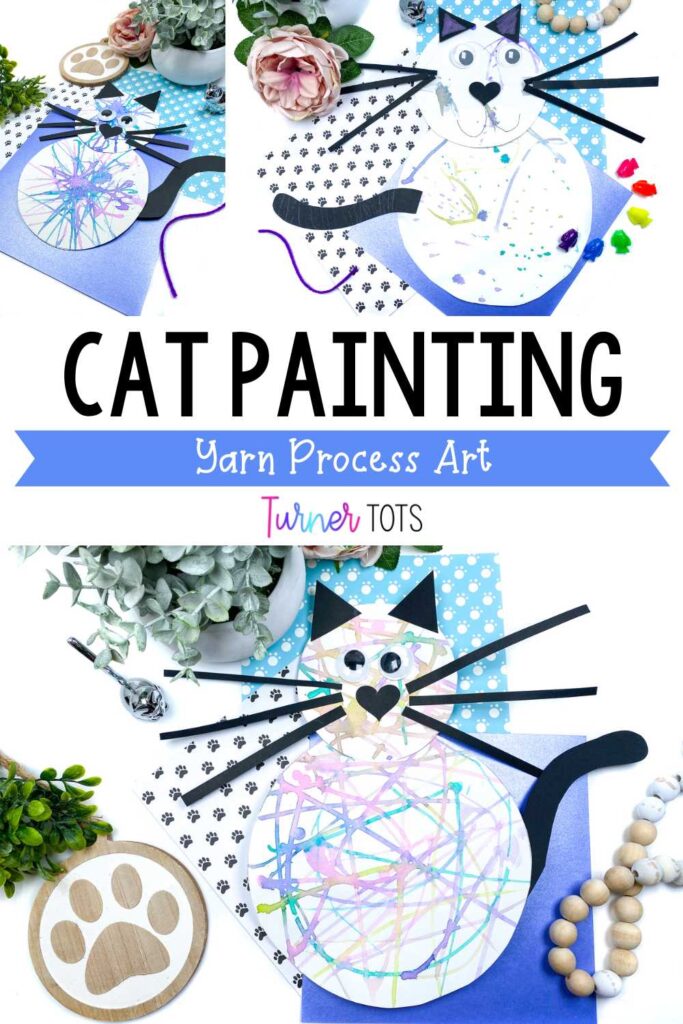 What's it called when all the cat treats are gone? 
A cat-astrophe. 
Ha! I'll help you avoid any pet-related catastrophes with this cat yarn painting that you and your tots will surely love! 
Start by cutting two circles – one large circle for the cat's body and a smaller one for the head. 
Next up, drag pieces of yarn through the paint and then across the circular pieces of paper. Each cat will be unique thanks to this art process.
Once your circles are complete, add the cats' whiskers, nose, eyes, ears, and tail (we used black paper).

That's it… no cat-astrophes here.. only cute, hand-made cats!
MORE Pet Activities for Preschoolers
If you're looking for some easy and cute pet art activities to do with your preschoolers, I've got you covered! Check out these paw print painting, yarn cat painting, chalk bird craft, and paper plate fish. They are sure to be a hit with your little ones! And if you're looking for more pet-themed ideas, be sure to check out our website where you can find easy pet art activities for your class.