Sensory play is always a big splash in our house, especially when paired with a pond theme. Water, water beads, play dough – need I say more? Water play alone engages my little ones for an hour straight, taking their imaginations from the pond to a waterfall and a tornado. I love activities that transform from a simple fine motor dropper activity to an "escape from the giant flood" activity. That is the magic of open-ended sensory play. Take a look at our pond sensory bins for the week!
This post contains Amazon affiliate links, which means I earn a small commission from qualifying purchases at no extra cost to you by linking to Amazon.com. See the full disclosure here.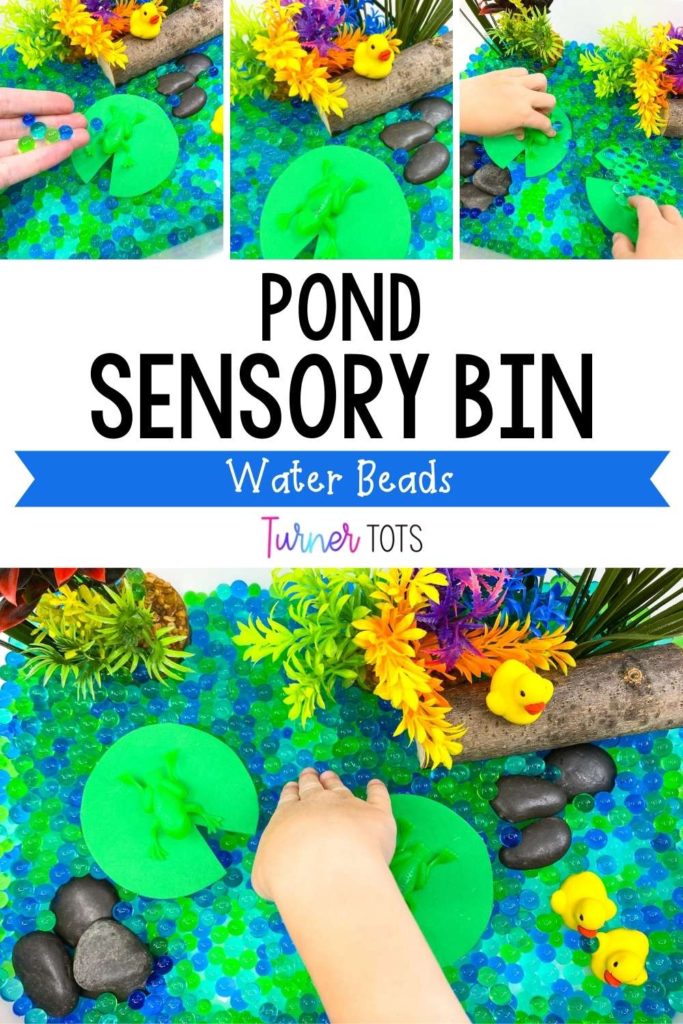 I cannot describe the sensation of water beads. Every time we get them out, I am captivated by the feeling of plunging my hand into them. So amazing! 
We used blue and green water beads with aquarium plants as the main feature for our sensory pond bin. We also added small logs, rocks, and green lily pads cut from foam. Those paired perfectly with our duck counters and jumping frogs.
The little ones jumped right into this sensory bin with a splash. Their favorite part was hiding the frogs underneath the lily pads and having them bounce off of the log.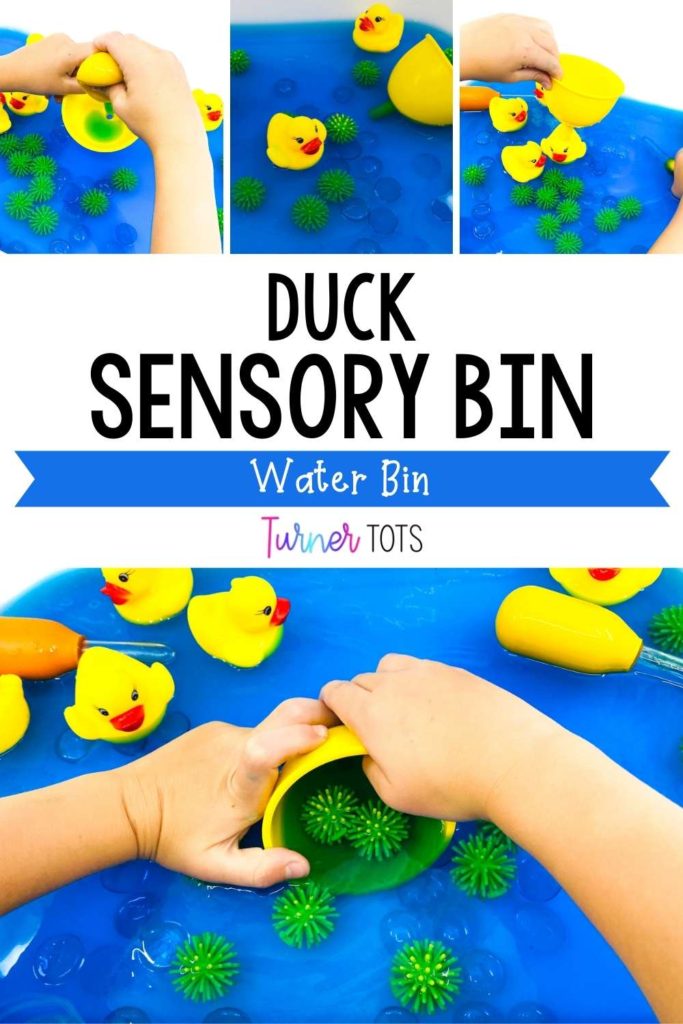 Like I said before, anything dealing with water is always a winner with my little ones! We used a bath fizz tablet to add refreshing sensations to this duck pond sensory bin. Not only do you achieve the bright blue color, but you get to hear and watch it fizz in the beginning. 
I also added some essential oils – one called Mountain Rain – to incorporate the sense of smell. I know what you are thinking: Ponds are stinky and don't smell like mountain rain! Well, foul pond scent doesn't come in essential oil.
As far as materials go, we used a funnel, water droppers (to add in fine motor skills), rubber ducks, blue gems, and spiky balls (to add in another exciting texture). 
Note: Do NOT buy the ducks with the squeaker. You cannot get the water out of them without cutting them open. And then they don't float or squeak, and then you have sad children.
Some exciting things happened with this sensory bin. Number one: When the blue water was in the yellow funnel, the water looked green. Sweet! Number two: The funnel turned into a giant tornado that the ducks had to escape from the flood zone.
Such creative imaginations with an open-ended invitation to play!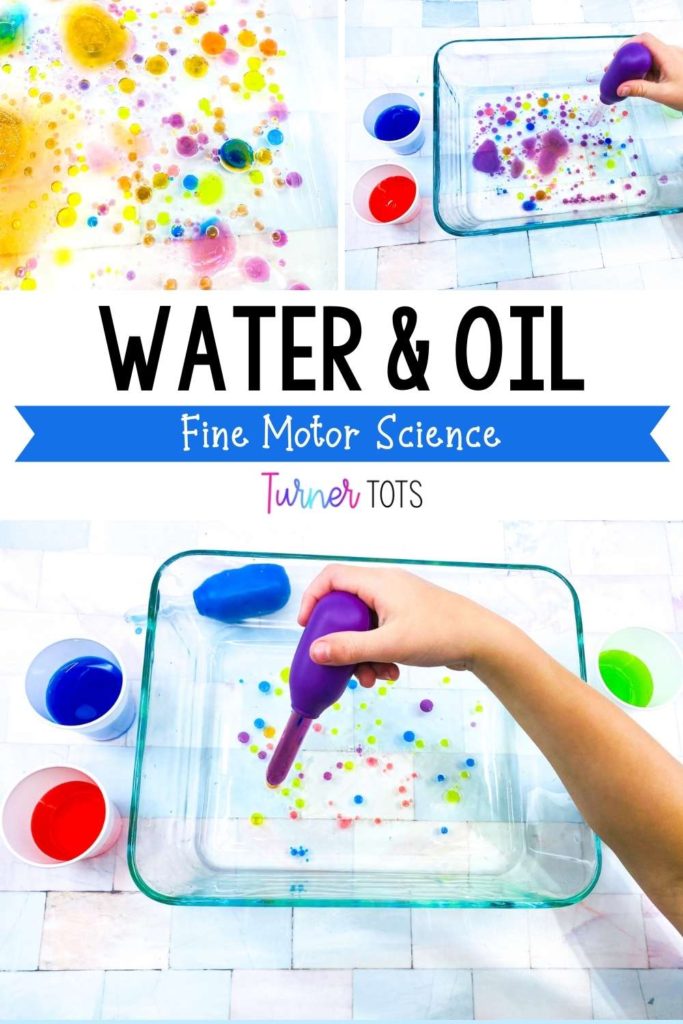 This is the first time we have experimented with water with oil. First, I added a layer of vegetable oil to the bottom of a clear container. Then, we colored small amounts of water using food coloring. Finally, we used droppers to slowly (this has to be an instruction) to the oil, especially with the big droppers I have. This experiment would definitely work better with pipettes to make sure the little ones are only adding small amounts of water at a time.
Our favorite part was sucking the water back into the droppers and squirting it out. 
Fair warning: This is one of those activities that starts with beautiful, brilliant colors and ends up a hot brown mess. Still, it was fun to experiment with the water and look through the transparent glass dish to see the water droplets sink to the bottom.
Pond play dough invitation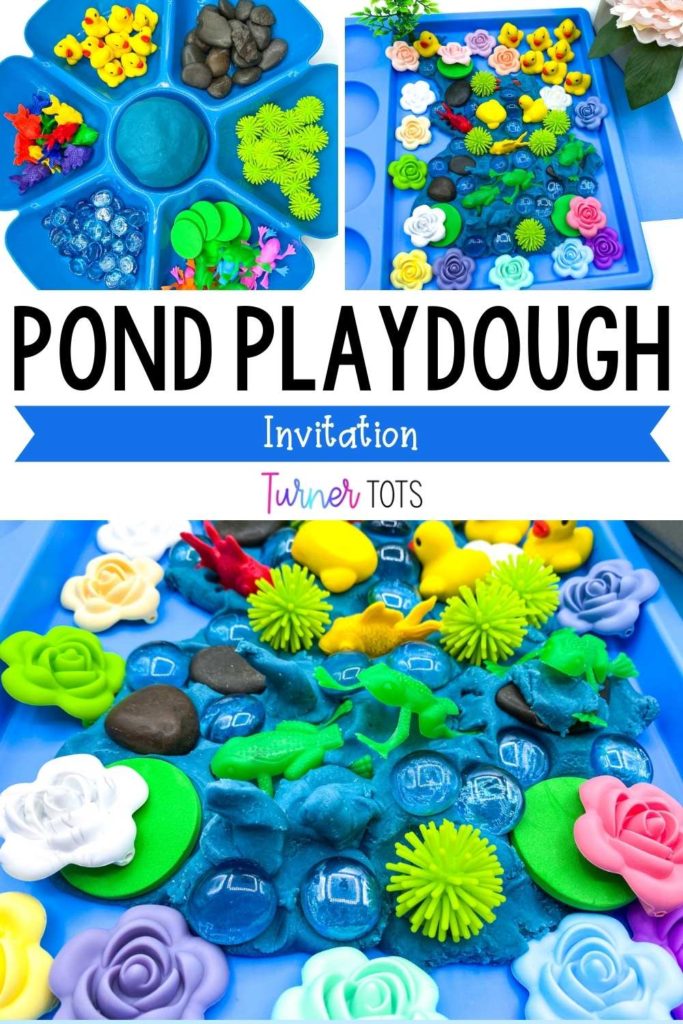 When you give a kid a pond play dough invitation tray, they're going to want to use every single tiny item… plus more. 
I have no idea where the obsession with tiny objects comes from. (Just don't look in my storage room 😜.)
It's truly amazing the things their little imaginations invent when left alone to explore. If you look closely, the frog actually starts on a rock and jumps into the pond with blue play dough splashes bursting up. And there's a duck who's turned upside down in the pond hunting for bugs. 
Such an easy pond sensory activity to set up – just grab a serving tray for organization. Add duck erasers, rocks, spiky balls, jumping frog toys, blue gems, and fish counters. And hopefully your little ones won't start pulling every other little thing out from your shelves as they create with this pond play dough invitation.
These pond sensory bins are a fun and hands-on way to learn about science and explore the five senses. By exploring a pond theme sensory bin, playing with a duck pond sensory bin, and creating with a play dough pond invitation, your preschoolers will have hours of fun while learning at the same time. 

Are you looking for more hands-on pond activities? These activities (math, literacy, and science centers) come in this discounted bundle. And if that's not incentive enough, you get your pond lesson plans done for you. So what are you waiting for? Get your pond bundle today!
If there is anything you need to get this pond theme ready for your preschoolers, just let me know, and I would be happy to help with whatever you need!