One hot summer in Michigan, we decided to go for a swim in the neighbor's pond. It was so incredibly hot and humid, we had no choice but to try and cool down that way. We started out swimming, our toes squishing into the mucky, slimy bottom. And then, it turned out to be a complete mud fight between all of the cousins. There was mud in our hair, our swimsuits, everywhere; but there was laughter and joy in our hearts. Just as we swam with joy in that pond, I hope to instill even the slightest bit of joy while teaching my little ones about ponds. Here are some pond literacy activities that will hopefully help our preschoolers swim with joy.
This post contains Amazon affiliate links, which means I earn a small commission from qualifying purchases at no extra cost to you by linking to Amazon.com. See the full disclosure here.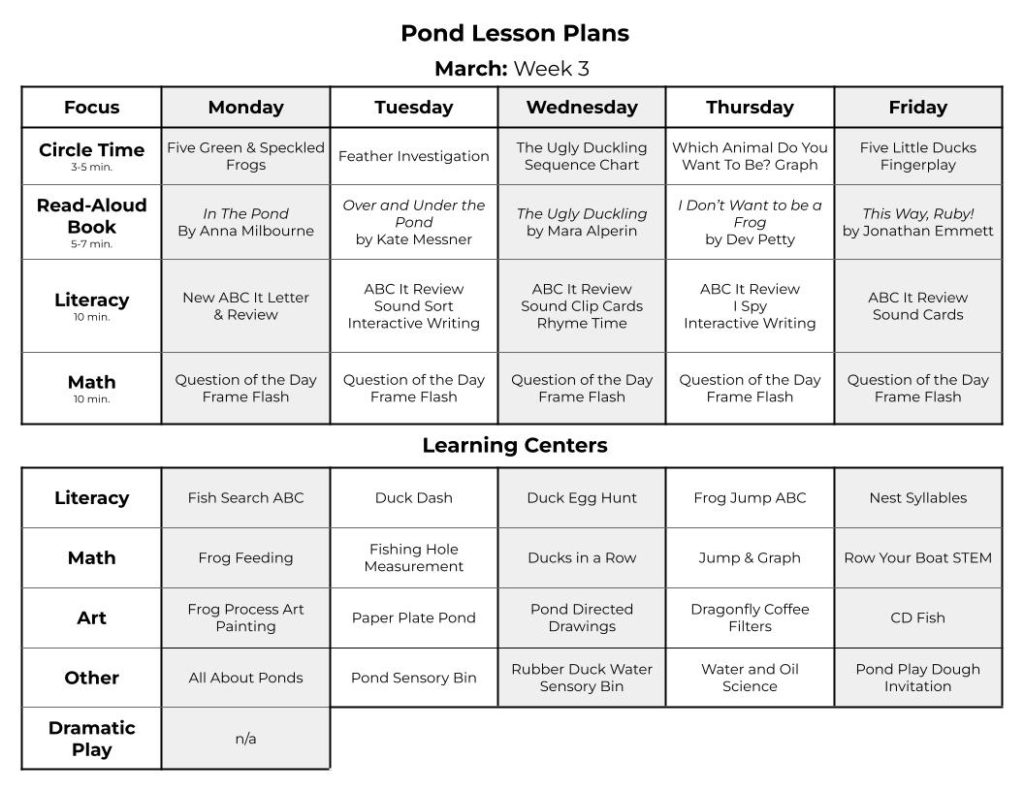 Growing up, I went fishing with my grandparents many times, but the fish seemed to steer clear of my fishing pole. Hours and days of my life drifted by, but I never caught a fish. So I gave up. No more fishing for me. 
Luckily for you and your little learners, the fish in this next pond literacy activity are not so difficult to find. 
Tape the two sheets filled with colorful alphabet fish to the bottom of a tub, securing all of the sides and cracks with tape. Then, add a layer of blue sand on top, which you can find at the Dollar Tree. 
Then, have the kids use paintbrushes to search around the "water" for the fish. When they find one, use a dauber to mark the fish on the recording sheet, matching the color of the fish in the pond. 
Instead of losing hours fishing, use this pond literacy activity to learn all about the letters of the alphabet!
When it comes to letter formation with preschoolers, I always model first and have my little ones try to imitate the strokes that they have seen. Some students may simply be working on the first stroke of capital F, starting at the top and drawing straight down. Others may be working on staying in the lines on the card.
With duck letter formation cards like this, we work on tracing the letters with our fingers first. If students are ready for it, we trace the letters in a salt tray or use paintbrushes to paint the letters with water. Then, older students can work on using markers to trace, adding in the component of pencil grip. 
Any way I can, I try to make it fun and add simple supplies to build engagement in the writing center.
I have always been up for a good hunt, whether it be for Easter eggs, a scavenger hunt, or an escape room. My kiddos are the same way. There is such a thrill in finding objects; it truly amplifies the excitement.
For this pond literacy activity, I hid eggs with initial sound pictures around the room. The little ones ran around searching for eggs. When they found one, they brought it back and used a dot marker to mark the beginning letter on the recording sheet.
Want to do this with just letters? Hide magnetic letters inside of Easter eggs and mark the ones found on the recording sheet.
Not only does this egg activity incorporate many literacy skills, but the thrill of the hunt and a way to get our little ones up and moving make it a sure hit!
Fun fact: A frog can jump 10-20 times its own length! That is incredible! In this first activity, however, the frogs are going to be hopping shorter distances.
The frog on the edge of the pond wants to make it across the pond to eat the fly, but it can only hop on lily pads with pictures beginning with the letter at the top. We used plastic jumping frogs to leap from lily pad to lily pad, saying the names of each picture as we went. The alliteration of the beginning sounds is such a great way to reinforce the sounds. We also did each card slowly at first, then tried it again for speed.
Another way to use these frog initial sound cards is just to have students place counters on top of the pictures beginning with the letter at the top.
As an extension of our duck egg hunt, we sorted the eggs by the number of syllables in each pictured word. Just add the numbered nests and a few real nests (if you have them). 
As they sort, kids will also be practicing their reading skills and learning about different pond vocabulary words. 
Get Duck Syllable Sort today and help your little one learn essential early literacy skills!
If you're looking for a fun and interactive way to help your preschoolers learn their letters, sounds, counting syllables and letter formation, look no further than our pond literacy activities. These activities are perfect for springtime learning and can be enjoyed by the whole class. Plus, when you purchase the bundle, you'll save 20% off the regular price. So what are you waiting for? Dive into some fun learning today!
If there is anything you need to get this pond theme ready for your preschoolers, just let me know, and I would be happy to help with whatever you need!