Dramatic play is my absolute favorite! There are so many skills wrapped up into play. The children don't even realize they are learning while they gallop around the room neighing like a horse saying, "Wee-haw!" Take a look at the "mane" event of the week: Wild West dramatic play at the Cowboy Ranch.
Wild West Dramatic Play
This post contains Amazon affiliate links, which means I earn a small commission from qualifying purchases at no extra cost to you by linking to Amazon.com.
---
Cowboy Chores
Cowboys work extremely hard, as we have discovered by reading many books throughout the week. I created this visual list of chores to help my little ones determine what they needed to do each day. My favorite part: teaching them how to use a country accent with some cowboy phrases. My stomach hurt from laughing so much! "Git 'er done!"
Use body and movement to depict various pretend characters.
Initiate sustained dramatic play.
Herd the Cattle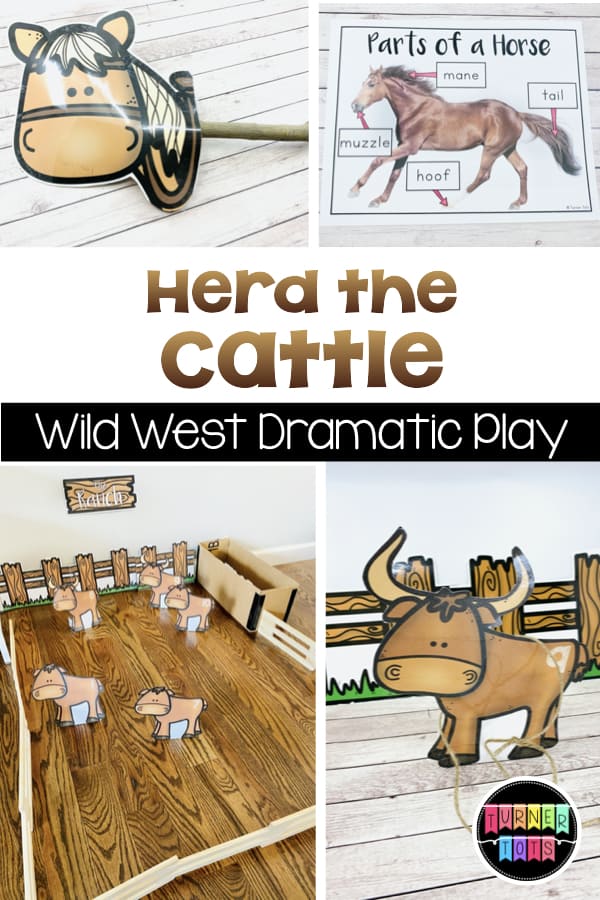 The second that stick horse was complete, the kids (okay, and I) have been galloping non-stop around the entire house! For one of our cowboy chores, we rounded up all of the cattle (first we scattered them around the room) and brought them back to the pasture to feed. Then, we counted them to see how many cattle we collected to record in our cowboy journal. We used the fence printouts and the foldable fence from Melissa & Doug to create our pasture.
Count and represent objects including coins to 10.
Move with even and uneven rhythms (gallop).
Cowboy Journal
Cowboys used to record their thoughts, their dreams, and their stories in a journal. They also used their journals to record information about their cattle. We spent time each day recording the weather by coloring in one of the choices, writing down how many cattle we herded that day, and drew a picture of something that happened. Top left: I rode around on my horse. Second from top left: I mended the fences.
Write and recognize letters in own name.
Identify, predict, and extend patterns based on observations and representations of objects in the sky, daily weather, and seasonal changes.
Match a quantity with a numeral.
Collect, describe, and record information through discussion, drawings, and charts.
Target Practice
Get your lasso arm ready with some target practice! I don't know about you, but I am obsessed with games. This target practice game was the perfect way to incorporate working on tally marks and gross motor skills while playing a fun game. We tossed the small beanbag and added tally marks on top of the dotted ones when we scored. First to 10 wins!
Count and represent objects including coins to 10.
Throw or toss an object or ball.
How to Make a Fire
If you're married to my husband, having a fire is a regular occurrence (2-3 times a week). But I know there are many kids who only experience fires once or twice a year. Either way, my kids spent over an hour setting up the fire and pretending to cook some dinner for me. We followed the directions on the instructions sheet by first building a circle of rocks, adding a teepee of logs, and finally lighting the fire with a match. I used our PVC pipes that we usually bring out with our sensory bin to make the stand for the pot (just wrapped them in a wrapping paper tube to make them brown). Finally, we added some logs to use as seats and got the perfect campfire setup. You could even incorporate sleeping bags or tents for the cowboys and girls to pretend to sleep under the stars.
Initiate sustained dramatic play.
Follow directions to arrange, order, or position objects.
Cowboy / Cowgirl Gear
I am always astounded at how much vocabulary can be acquired when learning about a certain topic. That is one of the reasons I love learning with themes. This week, I placed the Cowgirl Gear and Cowboy Gear signs up by our dress-up station, so my kiddos could practice using their new vocabulary as they got dressed. There are also blank ones if you wanted to use these charts in your writing center.
Demonstrate use of vocabulary in oral language to express ideas and events.
Design a Cowboy Hat
What's a cowboy without a hat? We designed our own hats using the outline provided in Cowboy Ranch Dramatic Play. Tip: Laminate the hats (not the straps) to make them last and not become a flop. Or you could also buy some hats (like these) to incorporate into the dress-up area.
Use art materials safely and with respect in any environment.
All About Cowboys Class Chart
After a long week of herding cattle, we sat down to discuss what we had learned about cowboys using these knowledge charts. It was amazing to see everything they had learned.
Collect, describe, and record information through discussion, drawings, and charts.
---
More Wild West Activities
I hope you and your students get to share my unbridled enthusiasm when you set up your very own Wild West Dramatic Play! Let me know if there is anything I can change or add to make this a great resource for your class! Just send me an email here, and I'd be happy to help.
Don't forget to check out more Wild West activities by clicking the buttons below!
---
My Amazon Picks