Christmas is the most wonderful time of year – a time of giving, loving, and magic! Let's continue that magic with learning through all of these merry Christmas activities for our preschoolers! Here's a look at our week:
This post contains Amazon affiliate links, which means I earn a small commission from qualifying purchases at no extra cost to you by linking to Amazon.com.
---
Christmas: Books We Love
I wanted to find some merry and exciting books that we haven't read for our Christmas theme. We've read the classics (The Polar Express, Frosty the Snowman, Rudolph the Red-Nosed Reindeer, and 'Twas the Night Before Christmas) and now it was time for something new!
Gingerbread Baby by Jan Brett is a new twist on an old tale. Matti opens the oven too soon and out pops a gingerbread baby instead of a gingerbread boy. The entire town chases after the daring gingerbread baby until someone finally outsmarts him. Of course, Jan Brett delivers with this wonderful holiday story.
The Littlest Elf by Brandi Dougherty is the story of the littlest elf at the North Pole: Oliver. His biggest wish is to find the perfect job in Santa's workshop, but every job he tries just doesn't work out. Will Oliver find his place at the North Pole? I fell in love with Brandi Dougherty's The Littlest Pilgrim and also love the important message in this magical tale
I couldn't resist this next one: Santa's Underwear by Marty Rhodes Figley. It's Christmas Eve and Santa is getting dressed for the big night, but he can't seem to find his warm and fuzzy Christmas underwear. He tries all of his other holiday underwear, but none are right for this special night. What will Santa do?
In The Lost Gift: A Christmas Story by Kallie George, it is Christmas Eve and the forest animals see a present fly out of Santa's sleigh. The forest animals notice the tag says it's for the new baby at the farm and set off on the long journey to deliver this gift. I thought this book was sweet and a tale to share for many years to come.
We finished our week with Zetta the Poinsettia by Alma Hammond. In this book, Zetta sets off to try and find out what her reason "to be" is other than holiday decor. Love that the message is that we all have something special to give.
---
Christmas: Literacy Activities & Centers
Christmas ABC
We grabbed a magnetic letter out of the stocking, said the letter sound, and searched for the Christmas picture beginning with the same sound. Easy to set up with a cookie sheet from the Dollar Tree and great practice for letter sounds with Christmas ABC.
Ornament Rhymes
The holiday season doesn't start for me until we get the Christmas tree up. We crank those Christmas tunes up, and the spirit of Christmas begins when the tree is lit. We have bought an ornament from each of our travel destinations. So not only do we light up the magical Christmas spirit when we bring out our tree, but we also get to reflect on beautiful memories with our family.
That same spirit can come out in our classrooms, too! And why not incorporate such an essential early literacy skill: rhyming? We worked on rhyming words this week by hanging rhyming word ornaments together on the tree. Each rhyming pair has a red and green ornament to make it easier to find the matches. The kids loved hanging ornaments on this tiny tree. I mean, who can resist a miniature tree?
Dear Santa
I can remember the excitement of asking Santa for that one special gift each year. It was not a practical gift and usually something that my parents thought was completely unnecessary. It's funny. I know now how my parents felt as my children wish for walking llama-corns and Polly Pocket seashells. But it is still fun to see their one wish each year, especially as they grow into their individual personalities.
My littlest one is at the beginning stages of letter formation, so we brought out these letters to Santa to work on writing using red sand and candy canes from the Dollar Tree. We read the letters to Santa and wrote the beginning letter in our sand tray, while also emphasizing the initial sound.
Later on in the week, we laid out all of the gifts with the pictures showing. I told my little one that Santa wants to wrap each gift in wrapping paper that has the beginning letter on it. So, we said the name of the gift and said the beginning sound to figure out the letter. Finally, we flipped over the gift to see the letters with this self-checking Christmas preschool activity.
Sledding ABC
Sledding ABC was a hit! We made a popsicle stick sled with a magnet glued in the middle. Then, my little one drew a card, found the magnetic letter on the Sledding ABC Hill, and slid our letter down the "hill" made from a board. On the way down, we said the letter sound, too! So much fun and made us ready to go sledding ourselves. I think this activity was great because it kept my little one moving (she never sits still).
Stocking Syllables
I noticed that my little tot couldn't use clapping to figure out the number of syllables in a word, so I created this stocking mat to help her count. We placed linking cubes on top of the stockings and pulled them down as we said the word slowly. Then, she clicked the cubes together and placed it on top of the Christmas item. Worked out way better this time!
---
---
Christmas: Sensory Bins
Gingerbread House Sensory Bin
We found this adorable gingerbread house and figurines at Target Dollar Spot! They have been coming out with such cute stuff lately! My husband tells me not to go in there because I always end up spending way too much! We added cotton balls for snow and Easter eggs as our gumdrop fence. Lots of fun and even a good sensory experience for my 1-year-old!
Gift Design
We used our linking cubes to design different sized gifts! Not only was this a great block activity, but also great for visual perception. We even added bows for the finishing touch! After we copied some designs, my little one designed her own present and colored the design on the blank design cards. Available in my TPT store!
Jingle Bells Sensory Bin
This jingle bell sensory bin was a hit! We played "Jingle Bells" as we filled the Christmas cookie cutters and flask from our science kit. The magnet was just the cherry on top! Played with this for 4 days straight! Must be the soft jingly music that is so magical!
Snowman Sensory Bin
I giggled as I made these adorable snowmen from Pom Wonderful bottles and small Red Solo Cups! They turned out amazing! Just add some rice and spoons and funnels for this frosty sensory experience!
Gingerbread Play Dough
We designed our own gingerbread men from play dough to finish off the week. Some of the materials we used to decorate with were black beans, linking chains, bows, and red pom-poms. Play dough is always a great way to build those hand muscles and for hours of fun!
---
I hope these Christmas activities get your kiddos in the holiday spirit and learning at the same time! Grab the entire discounted bundle of Christmas activities here. Don't forget to check out more Christmas activities by clicking the links below: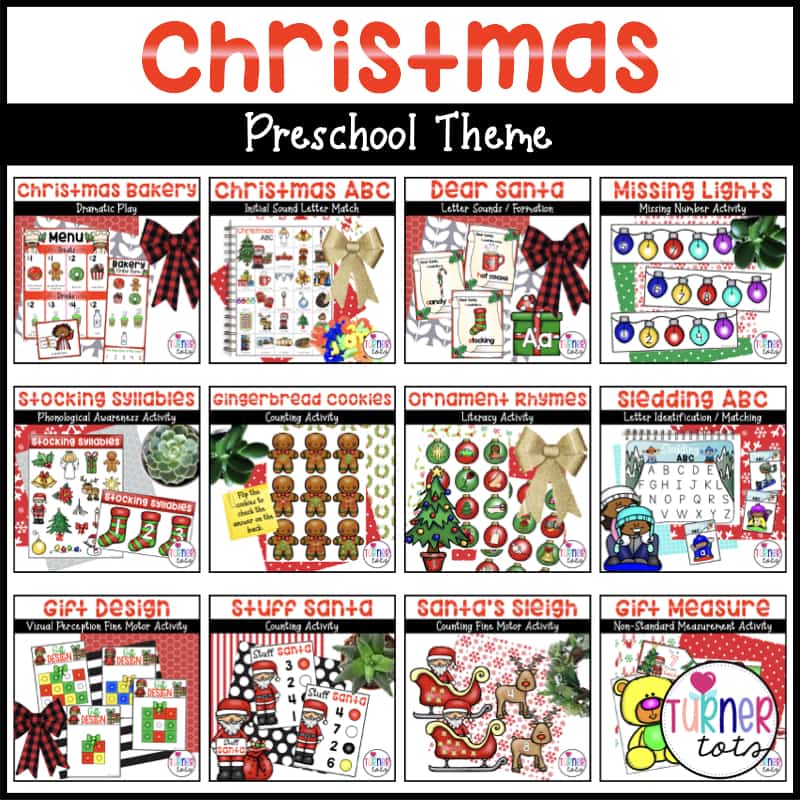 ---
---
My Amazon Picks