What's the weather like today? So many of our daily activities are influenced by the weather, which is why this is such an important skill for our little learners! Check out this weather unit full of sunny activities!
This post contains Amazon affiliate links, which means I earn a small commission from qualifying purchases at no extra cost to you by linking to Amazon.com.
---
Weather: Books We Love
It was so hard to choose just five books for weather! There are so many great ones out there!
We started out the week by reading Hello, World! Weather by Jill McDonald. This book introduces the various types of weather and the articles of clothing that are appropriate for rainy days, windy days, snowy days, and hot days.
Clouds can be dark and gloomy, white and fluffy, or thin and low. Where do clouds come from? Explore the different types of clouds with Clouds by Marion Dane Bauer.
As the thunderstorm taps and booms its way into town, people rush to take cover from the rainstorm. Love the onomatopoeia in Tap Tap Boom Boom by Elizabeth Bluemle.
When Spring Comes by Kevin Henkes shows how spring brings about changes: the snow melts, the flowers bud and blossom, the birds chirp, the rain comes in, and everything comes back to life in the spring. The pictures are vibrant and the content is perfect for explaining the season of spring to young children.
We finished the week by reading Winter is for Snow by Robert Neubecker. In this book, a boy describes all of the wonderful things that come in winter, such as sledding, snowball fights, and snowflakes to show his sister how great this season really is.
---
Weather: Literacy Activities & Centers
Sunshine Sounds
This sunny activity is perfect for learning beginning letter sounds. We found a picture on the sun, said the beginning sound, figured out the letter, and attached the clothespin with the matching letter as one of the sun's rays. My little one is just beginning to learn letter sounds, so we focused on saying the word and beginning sound several times to figure out the letter. Grab your Sunshine Sounds here!
Cloud Writing
I vividly remember my second grade teacher having us practice our spelling words every week in shaving cream on our desk. I loved doing this so much, so I had to create an activity for my little one to try it. We made a cloud out of shaving cream (Lesson learned: less shaving cream is better) and wrote our letters in it using these cards as a visual. So much fun!
Lightning Rhymes
Turn off the lights, grab your rainstick, and create a flash of lightning using a flashlight! What toddler doesn't love playing with flashlights? I would use my flashlight to light up a cloud, say the word, say the ending, and ask my little one to find a rhyming word. For example, "Pop. Pop ends in -op. What other word ends in -op?" Then, she would try to find cop or stop or mop and light it up with her flashlight. Lightning Rhymes is available at my TpT store.
Umbrella abc
Build CVC (consonant – vowel – consonant) words using magnetic letters on top of the Umbrella Raindrop Sheet. First, we drew an umbrella card and found the letters to place under the umbrella. To add in a bit of phonemic awareness, I would say the individual sounds and see if my little one could put them together to make a word. For example, "/z/, /a/, /p/ says … zap!" We are still working on letter sounds, but it doesn't hurt to start this early. Update: I added pictures on the back for her to self-check and she loved sounding out these words!
Snowball Fight
"Snowball fight / Pack them tight / Throw them in the air just right! / With a swoosh and a thud as I throw from me to you. / Which letter's in front of you?" This was by far our favorite activity of this week! So much fun to have a snowball fight in September! Available with both uppercase and lowercase lettered snowballs, uppercase and lowercase recording sheet, and a song card at my TpT store.
---
Weather: Math Activities & Centers
Rainbow Tower Patterns
Let's add some fine motor building skills into our next math center! Build rainbow towers out of applesauce twist-off caps! We had fun seeing how high we could continue our patterns (AB, AABB, ABC, AAB, ABB) before, "Timber!"
Windblown Measurement
See how far you can blow a cloud (marshmallow or cotton ball)! Use these Numbered Clouds for non-standard measurement practice.
Stir Up a Storm
"A thunderstorm's about to brew!" Create the perfect storm by adding the weather items to a small tub! We used small black rocks as sky, but you could also use black beans, black rice, etc., white pompoms for clouds, yellow foam lightning bolts, and blue gems as rain drops. Lots of counting and lots of fun!
Rain Chains
It's raining chains! Link blue chains like raindrops to show the number on the cloud. I punched two holes to easily show odd and even numbers (even though this is not a preschool skill). Add in the raindrops for additional counting and number sense! Grab your Numbered Clouds here!
Rain Drop: First to 10
Roll the die and add blue gems (raindrops) to the ten frames. Be the first to reach 10 or 20 to win with Rain Drop!
---
Weather: Other Activities
All About Weather Science Explorations
Wow! That is all I can say about these explorations. Everything about these activities is hands-on and so engaging for the little ones! We used the weather chart to display the daily weather and to use as a forecast tool in the science center. I love how the arrows move and the thermometer is adjustable with the red pipe cleaner in the straw. We also explored the different types of weather by looking at different sensory bottles and sorting them on the mat. Next, we tested different objects to see which objects would blow in the wind (box fan) and sorted the cards on the sheet. We tested to see how many pipettes full of water our cloud (a sponge) would hold before it began to "rain." Then, we used a prism to create the colors of the rainbow and clipped colored clothespins on in order. Finally, we created the different types of clouds using cotton balls. Such a phenomenal way to explore weather!
Cloud Demonstration
See how a cloud works with this demonstration! Squirt some shaving cream on top of a cup / beaker full of water. Add blue food dye on top and wait for the rain! It was really neat to see what happens when the clouds are "full".
It's Raining Sensory Bin
Use clouds as sponges and cups with holes poked in the bottom to create this rainy sensory bin. We also used people with drink umbrellas to add to the excitement! To incorporate some math to this activity, we put numbered stickers on the cups and that's how many holes we poked in the bottom. My tot helped me count as we prepped for the activity. It was neat to play around with the cups to see the different number of holes.
Raindrop Letters Sensory Bin
Use cookie cutter letters and water beads to create this alphabetic sensory bin! Great way to incorporate letter identification into a sensory experience!
Snow Fort: STEM
We used toothpicks and marshmallows to build snow forts! Afterward, my little one drew her design on the STEM Challenge Design Sheet. I was actually amazed at how difficult this was for her. Now I know we need to work on more building activities.
---
This was such an exciting week full of sunshine and rainbows! We hope that you can use some of these activities in your classroom. Check out the full Weather Preschool Bundle with a 20% discount here!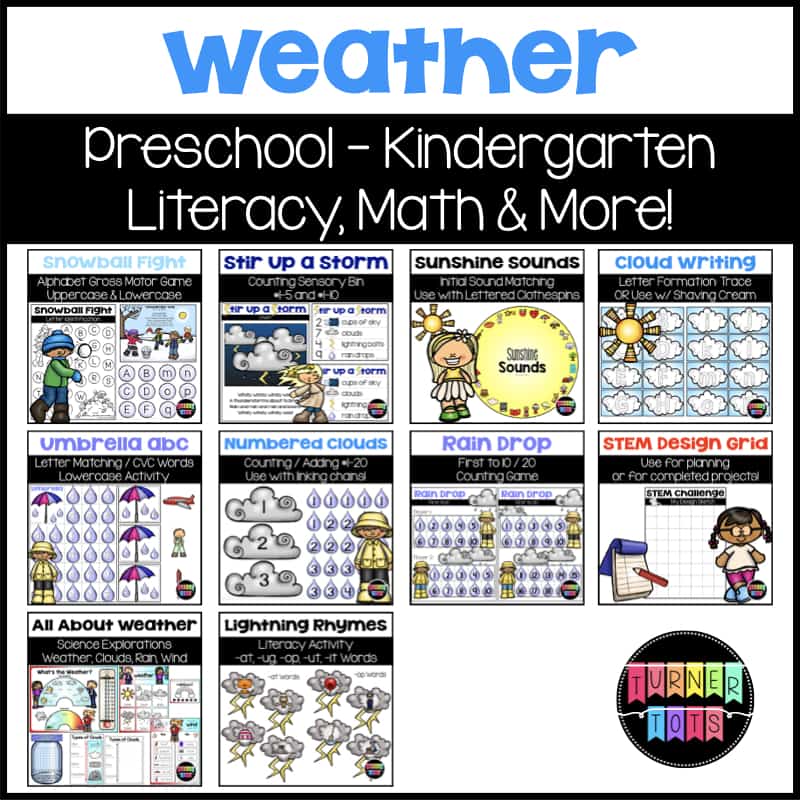 ---
---
My Amazon Picks