The imagination ignites with sensory play. There's something magical about the sound of scooping and pouring dried peas, the rough texture of hay, the movement of materials that just captivates the little ones for hours of engaged play. This week, we lassoed up some sensory play with these Wild West fine motor activities. Check it out!
Wild West Sensory Activities
This post contains Amazon affiliate links, which means I earn a small commission from qualifying purchases at no extra cost to you by linking to Amazon.com.
Cow Match & Scoop Sensory Bin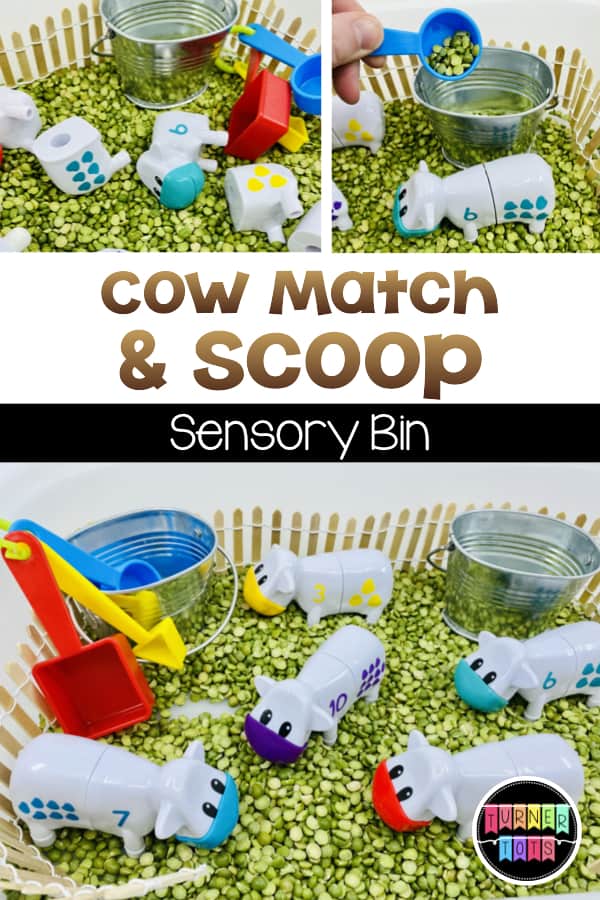 Our first sensory bin of the week was this Cow Match & Scoop. I filled the sensory bin with dried split peas, counting cows, small metal buckets, and a wooden fence. First, the kiddos counted the dots on the cows and found the piece with the matching numeral. Then, we scooped the same number of scoops of peas into the bucket before pouring it out. Moo! After matching all of the cows, there was plenty of time for some free play!
Roll & Poke Cactus
Roll and poke the pool noodle just like cactus spines. It was oddly satisfying to press the toothpicks into the green pool noodle. To add in some math, roll a die and add the same number of toothpicks as the number rolled. Tip: You can find pool noodles at the Dollar Tree during the warm months!
Rescue the Animals
We finished the week by saving the cattle and horses from the explosion of hay. I first wrapped the tub with green yarn, tying knots in the back to secure it. Then, the kids used finger tongs (found at Walmart) to save the animals from the hay. Great fine motor skills with this activity!
---
More Wild West Activities
I hope that you and your students enjoy these fine motor activities with a Wild West theme! Let me know if you need anything by sending me an email here. Have a hay of a day!
Don't forget to check out the rest of the Wild West activities by clicking on the buttons below!
My Amazon Picks